Arts & Culture
Serious Subjects Become Funny in SU Drama's 'Lips Together, Teeth Apart'
Playwright Terrence McNally excels at making wild and witty comedy out of serious and thoughtful matters. In this 1991 off-Broadway triumph, two couples grapple with the mundane (burgers and kites) and the momentous (illness and infidelity) as they try to celebrate the Fourth of July at a beach house. "Lips Together, Teeth Apart" includes a touch of Chekhov with the sly wickedness of McNally.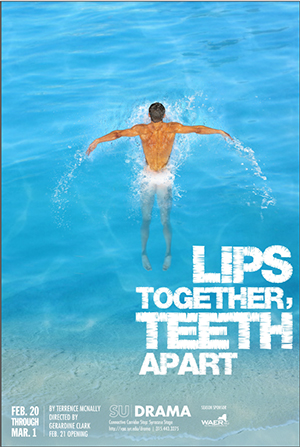 Presented by the Department of Drama in the College of Visual and Performing Arts (SU Drama), "Lips Together, Teeth Apart" performs Feb. 20 through March 1 in the Storch Theater at the Syracuse Stage/Drama Complex, 820 E. Genesee St. Tickets range $17-$19 and can be purchased at http://vpa.syr.edu/drama/tickets, by phone at 315-443-3275 or in person at the Box Office, Monday through Friday, 10 a.m.-5 p.m.
McNally is the recipient of an Emmy Award, four Drama Desk Awards, four Tony Awards and a Pulitzer Prize nomination. He is one of few writers to receive all honors. McNally is known for "Love! Valour! Compassion!," "Ragtime" and "Master Class," among other plays, musicals, television and film scripts.
McNally's comedic style and complex characters can be seen in all of his works, including "Lips Together, Teeth Apart." The play depicts two straight couples spending a weekend in a gay community, where they address their fears and discrimination against people with AIDS. When asked by an interviewer for Parade about the obstacles of writing about prejudice, McNally answered, "Fortunately, there are a lot of writers, like myself, who are slowly changing people's minds by changing their hearts first." (StageView, 2015)
The play's cast of four SU Drama students is led by director Gerardine Clark, who says, "In many ways 'Lips Together, Teeth Apart' is the most difficult play I've ever directed in the sense that by the end very little has happened but everything has changed." These subtle yet surprising changes for the characters are brought out during a weekend vacation in the beach house of one of the characters' recently deceased brother, who passed away of the AIDS virus. Despite the subject matter, "the play ends on an unusually hopeful note," says Clark.
Clark has been a professor of drama at Syracuse University for over 30 years. She received her doctorate in theater and drama at Indiana University, with a specialty in theory and criticism. She was a founding member of the Indiana Repertory Theatre where she acted, taught and served as a director of educational programs over a four-year tenure. She has been a professional actor, director and playwright for over 30 years. She has had an Eli Lilly post-doctoral fellowship, was for five years an Andrew Mellon Fellow and is presently a Gateway Fellow and a Laura and Douglas J. Meredith Professor for Excellence in Teaching. She was named the Syracuse University Teacher/Scholar for 2004-2005. She has also served as an onsite auditor for the National Endowment for the Arts. She is a core faculty member of the Renee Crown Honors Program.