Campus & Community
Omega Phi Beta Invites Students to Attend Week of Illumination Events
Omega Phi Beta Sorority Inc. is holding its annual Week of Illumination this week, celebrating 15 years on campus and with a focus on women taking initiative. The national sorority focuses on empowerment of women, academic excellence, leadership and professionalism.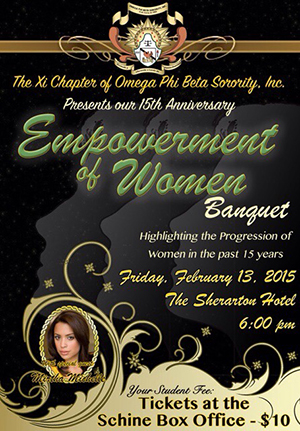 On Monday, Feb. 9, the organization is hosting "A Picture is Worth a Thousand Words" in 304ABC Schine at 7:17 p.m. All students are welcome to create a vision board in order to remind them about their goals and dreams. All supplies will be provided for those who attend.
On Tuesday, Feb. 10, a forum, called "Trophy Wife," will be held in Hall of Languages Room 214 at 7:17 p.m. This forum will be about how the term "trophy wife" has taken on a new meaning. It is no longer about only being beautiful, but being independent and in a position of power.
On Wednesday, Feb. 11, a workshop called "No One Gives You Initiative, You Take It" will be held in 101 Newhouse 1. This workshop will focus on motivating others to follow their dreams and goals as well as provide tips on how to achieve them.
On Thursday, Feb. 12, the organization will host a Twitter forum, "Beauty or Brains: Why can't Women have Both?," at 9:17 p.m. Follow the twitter handle @xi_chapter_opb to join the discussion.
On Friday, Feb. 13, the Annual Empowerment of Women Banquet will be held with the theme of "Highlighting the Progress of Women in the Past 15 Years." There will be multiple performances and dinner at 6 p.m. at the Syracuse University Sheraton Hotel & Conference Center. Mirtha Michelle, writer and actress, will be the guest speaker. She will be available for book signing at the banquet. Tickets are being sold in Schine at the box office for $10.
On Saturday, Feb. 14, a community service event will be held at the Dorothy Doll House, where the sisters will be bring food and toiletries for all the women who are currently staying in the shelter. The Dorothy Doll House focuses on helping women get back on their feet and finding a job.
On Sunday, Feb. 15, the organization will hold its first informational in 105 Life Science Building at 7:17 p.m. All interested women are welcome to learn more about the sorority and its philanthropy.