Arts & Culture
Electronic Media Communications up for More Emmy Awards
Syracuse University's Electronic Media Communications (EMC) has received three Emmy nominations from the New York chapter of the National Academy of Television Arts and Sciences (NATAS). Documentaries "The Book of Saunders" and "Frank Langella: An Actor's Actor" each received a nod, along with excellence in production lighting. Emmy nominations are not rare for EMC. This is the third consecutive year it has received one.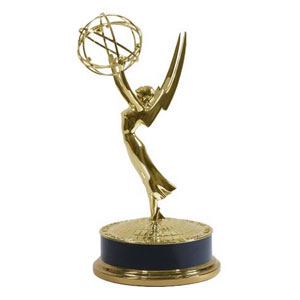 "The Book of Saunders" is an up-close look at George Saunders, one of the world's best short story writers, as he reflects on life, levity and the pursuit of his craft. Students and faculty members in the creative writing program, in which Saunders is a professor, are also featured in the production. "The Book of Saunders" aired on WCNY-TV, which shares a strong relationship with the University.
In "Frank Langella: An Actor's Actor," alumnus Langella reflects on a long and distinguished career in film and on Broadway. The three-time Tony Award winner credits the University and its drama department with giving him the foundation for success.
Both Saunders and Langella are recipients of the George Arents Medal, the highest honor the Syracuse University can give to alumni.
Stu Lisson, executive producer and director of Electronic Media Communications, credits teamwork and the compelling stories for the nominations.
"The New York chapter of the National Academy of Television Arts and Sciences represents one of the strongest and most diverse markets in the country," says Lisson. "This makes the nominations all the more special."