Campus & Community
Athletics Hosting Second Annual 'Cuse Champions Auction Feb. 13
The Athletics Department will host its Second Annual 'Cuse Champions Auction on Friday, Feb. 13, from 6-9 p.m. at Manley Field House. After the success of the inaugural event last year, the auction is back in 2015 with even more items and exclusive experiences up for bid. The proceeds will benefit all athletics' sports programs.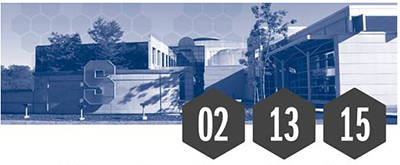 The event begins at 6 p.m. with a silent auction, during which complimentary hors d'oeuvres will be served with an open bar. The program begins at 7 p.m. with the live auction.
Several Syracuse head coaches, including Jim Boeheim, John Desko, Gary Gait and Quentin Hillsman, will be in attendance, as well as the following Orange legends:
Rafael Addison '99
Ryan Blackwell '00
Roosevelt Bouie '80
Eric Devendorf
Dennis DuVal '97
Craig Forth '05
Chris Gedney '92
Jim Lee '75
Floyd Little '67
Lawrence Moten '95
Jason Poles '99
Justin Pugh '12
Dale Shackleford '79
Preston Shumpert '02
The event will also provide a unique opportunity for attendees to meet many current Syracuse student-athletes.
Registration is $75 per person, $25 for children 18 and younger. The event will include activities for kids, including meeting Otto and kicking in a soccer goal.
Registration can be done here or by contacting the Orange Club at 315-443-1419. Capacity is limited, so the sooner you register, the better.
Complimentary parking will be available in the Manley North (Comstock Avenue side) of Manley Field House. Entrance will be through the Roy Simmons Coaches Wing.