Campus & Community
16 Upperclassmen Selected to Prestigious Leadership Program
Sixteen Syracuse University students have earned full scholarships to participate in the 2015 Dulye Leadership Experience, a highly selective, professional development program that a handful of upperclassmen experience each year.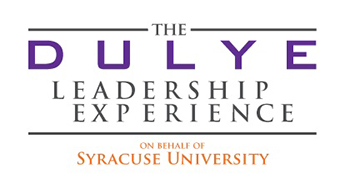 Founded by Linda Dulye, '77/Arts & Sciences, the Dulye Leadership Experience (DLE) catapults Syracuse University juniors and seniors on their post-graduation career paths by removing the mystery and fear from landing their first jobs after graduation.
This unique program includes a three-day boot camp in the Berkshires of Western Massachusetts in March with a distinguished faculty of professionals from diverse backgrounds and industries who coach and mentor on communication, networking and other key leadership skills.
Nearly 100 SU students have participated in the program since its start in 2008—and the majority quickly advanced to getting jobs. "The Dulye Leadership Experience has a high success rate," states Dulye, the president and founder of Dulye & Co.—a workplace performance consultancy and one of three Dulye family members to graduate from SU. "An impressive 90 percent of DLE graduates land jobs or internships within three months of attending the program."
Michele Dilella, who participated in the 2014 DLE program as a junior, found the experience life changing.  "It's the one weekend in college that will forever be the most memorable and life changing. The network I gained, the personal growth and the confidence I have in selling myself and my abilities to any recruiter for the workforce, and so much more, are what I gained from three days," says Dilella, an Arts and Sciences student.
A record-breaking 156 applications were received for the 2015 program. After a highly selective review process and live interview sessions, these students are members of the DLE Class of 2015:
Alejandra Avina '14, Arts and Sciences, anthropology and political science
Thomas Buchanan '15, College of Engineering and Computer Science, bioengineering
Robert Burke '15, Whitman School, entrepreneurship and emerging enterprises and marketing management
Tiara Butler '15, College of Visual and Performing Arts, environmental and interior design
Preston Cannedy '15, School of Information Studies, systems and information science
Kevin Claffey '15, Whitman/Newhouse School, advertising and marketing management
Sarah Dalusm a'16, Whitman, marketing management and finance
Katie Fleischer '15, Arts and Sciences, English and textual studies
Jane Hong '16, Newhouse, broadcast and digital journalism
Sean Fernandez '15, Whitman, finance
Daniela Lopez '15, Arts and Sciences, Spanish language, literature and culture, policy studies, political science
Yvenique Lovinsky '16, School of Information Studies, information management and technology
Elizabeth Odunaiya '15, School of Education, health and exercise science
Courtney Rosser '16, Arts and Sciences, biology and neuroscience
Greg Tobias II '15, College of Engineering and Computer Science, mechanical engineering
Andreacarola Urso '16, Arts and Sciences, biology, French and francophone studies
For more information on the Dulye Leadership Experience, visit http://dle.dulye.com.