Campus & Community
SU Libraries' Spring Exhibition Explores 'The Automobile'
Syracuse University Libraries will present "The Automobile: Design Considerations and Local Manifestations" as its spring 2015 exhibition. It will run from Jan. 20 until Aug. 28 in the Special Collections Research Center (SCRC) Gallery on the 6th floor of Bird Library. An opening reception will be held on Jan. 22 at 6 p.m. in the gallery.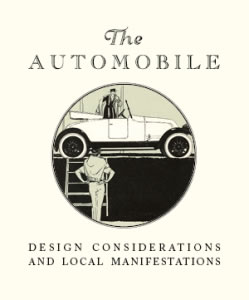 "The Automobile" provides a sampling of the ways in which the automobile evolved in the Syracuse area and a glimpse into the innovations of some of the most significant mid-20th-century automobile designers. The centerpiece of the exhibition is the air-cooled Franklin car, the most famous of Syracuse's automobile lines, with its remarkably flexible and durable wooden frame.
The exhibition will also include drawings, sketches and photographs from SCRC's industrial design collections by designers Howard A. Darrin, Claude Hill, Raymond Loewy, Budd Steinhilber and Walter Dorwin Teague. Darrin was known for his designs for exotic luxury and sports cars. Hill created some important concept car designs, while Loewy's photographs document a number of striking Studebaker model designs. Steinhilber was a member of the design team for the revolutionary rear-engine 1948 Tucker automobile, and Teague designed for both the Ford Motor Co. and the Marmon Motor Co.
In association with the exhibition, Kevin Borg, associate professor of history at James Madison University, will present a lecture entitled "A Social History of Your Car's 'Check Engine' Light" on Jan. 22 at 5 p.m. in the Peter Graham Scholarly Commons in Bird Library. The event is free and open to the public. Borg will also present a mini-seminar on Jan. 23 from 10 a.m.-noon. To register, contact Barbara Brooker at bbbrooke@syr.edu or at 315-443-9763.