Campus & Community
Mock Trial Competition Seeks Witnesses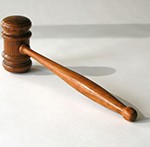 The College of Law is looking for a few good witnesses.
Qualifications include a willingness to take on the role of a crime victim, a doctor, a neighbor or a defendant. It may sound like an episode from the TV show "Law and Order," but it's actually for an upcoming mock trial competition involving more than 100 law schools throughout the United States. The proceedings are as real-life as possible, down to the witnesses.
"The overall time commitment is minimal," according to Matthew Holmes, a third-year student in the College of Law. "The rounds people are needed for start on Friday at 4 p.m., Saturday at 8:30 a.m. and Saturday at 1:30 p.m." The trials are part of a regional tournament for the National Trial Competition, and will take place in the Supreme Courtroom at the Onondaga County Courthouse, 401 Montgomery St. in downtown Syracuse.
"If someone wants to be a witness," according to Holmes, "they would need to be familiar with about four pages of material." Each trial runs about 90 minutes. Local attorneys and judges will serves as judges in the competition, and Holmes says for law students, it's a great way to meet the people involved in the local court system. "Anyone who is interested in going to law school would enjoy seeing the competition and having a role in it. It is also a good way to network with judges after the competition."
If you're interested in telling the truth, the whole truth, and nothing but the truth, then contact Holmes at (585) 355-1404 or  mdholmes@syr.edu, or Kat Miller at kmmiller@syr.edu by Thursday at noon.