Vice Chancellor and Provost Eric Spina Announces Plans to Conclude Tenure
Dean Liz Liddy will serve as Interim Vice Chancellor and Provost.
Eric F. Spina, Vice Chancellor and Provost since 2006, today announced that he will conclude his tenure as Provost at the end of 2014. Spina will return to the faculty as a newly appointed Trustee Professor and will pursue his longtime goal of obtaining a top leadership position within higher education. The appointment as a Trustee Professor was confirmed by vote of the Board of Trustees' Executive Committee yesterday.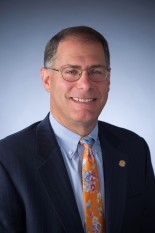 "Serving Syracuse University as Vice Chancellor and Provost under two exceptional chancellors for eight years has truly been a privilege and an honor," Spina says. "I am very grateful for the trust and confidence of so many people during this journey. I have greatly enjoyed working with close colleagues to support the incredible students and faculty of Syracuse and to advance our teaching, research and engagement missions.
"I care deeply about this University, and at this time believe I owe it to the campus community to step aside before I begin my earnest search for a presidency position. This will allow Chancellor Syverud to select a vice chancellor and provost who can serve with the deans and other senior leaders to be hired in the coming year," Spina adds.
"Eric has devoted more than 25 years of his life to Syracuse, as a teacher, as a dean, as vice chancellor and provost, and the University is a better place because of it," says Chancellor Kent Syverud. "I have experienced first-hand Eric's commitment to teaching, research and academic excellence, and the collaborations he has supported have allowed the University to advance its academic mission. I am personally grateful for the service Eric has provided me during my first year as Chancellor."
Chancellor Syverud has appointed Liz Liddy, Dean and Trustee Professor of the School of Information Studies (iSchool), as Interim Vice Chancellor and Provost effective Jan. 1, 2015.
A member of the Syracuse University community for 26 years, Spina began his career as a faculty member in the College of Engineering and Computer Science, where he was Chair of the Department of Mechanical, Aerospace and Manufacturing Engineering. In 2003, he was appointed the Douglas D. Danforth Dean of the college, a position he held until he was appointed Interim Vice Chancellor and Provost in July 2006. He was named Vice Chancellor and Provost in Jan. 2007.
In 2013, Spina served as the University's Interim Chancellor and President. Among his many achievements, in 2002 the University awarded Spina one of its highest honors—the Syracuse University Chancellor's Citation for Outstanding Contribution to the University's Academic Programs.
During his time as Vice Chancellor and Provost, Spina built a cadre of academic deans who stewarded their schools and colleges and pushed the University forward through the expansion of scholarly modalities. He refreshed a third of the faculty at the junior and senior levels and pushed academic units to improve diversity, particularly among faculty and undergraduate students. Highly regarded among his peer group nationally, Spina led efforts on campus to embrace pedagogical innovation, including the development of online curricula and directing the strategic planning process for Fast Forward Syracuse.
"I have had the distinct pleasure of collaborating with Eric over the years, and while I will miss working with him, I wish him all the best with his new endeavors," Liddy says. "I am truly honored Chancellor Syverud has asked me to step in and I look forward to engaging my faculty colleagues across campus to enhance the capabilities of the Provost's Office. This is an exciting time to be at Syracuse University. I'm looking forward to leading and supporting the development of the academic Strategic Plan and playing an active role in the next phase of our growth and development."
Liddy adds that she plans to create a small team of University faculty that will support her and augment the Provost's Office moving forward. She expects to name and announce that team in the coming days.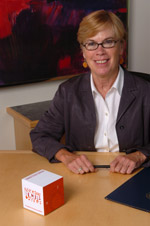 Liddy joined the University in 1988 as a member of the faculty. In 1999, she was named Founding Director of the iSchool's Center for Natural Language Processing, which advances the development of human-like language understanding software capabilities for government, commercial, and consumer applications. The holder of eight software patents, Liddy has led 70 research projects, authored more than 110 research papers and given hundreds of conference presentations on her work. The recipient of several high-profile awards she received the Outstanding Alumni Award from Syracuse University in 2000.
Liddy served as chair of the Association for Computing Machinery Special Interest Group on Information Retrieval from 2007 to 2009 and was chair of the iSchool Caucus for 2012-2013. She is a member of Beta Phi Mu, the library and information studies honor society, and Sigma Xi, the international honor society of scientific and engineering research. She received a Ph.D. from the iSchool in 1988.
"Liz is a most talented and respected dean. I am so pleased she has agreed to step into this critical role," says Chancellor Syverud. "I believe her entrepreneurial spirit and drive for innovation will be of great benefit to me, my Executive Team, the deans, students, faculty and staff. I look forward to working with Liz and the Office of the Provost to further engage and collaborate with our faculty colleagues across campus as we establish our strategic plan, look to the future and ensure Syracuse University is the best place to teach and learn."