Campus & Community
Join the Upstate Burners For an Evening of Jazz Dec. 5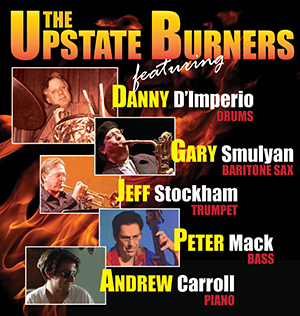 Jazz ensemble the Upstate Burners will present an evening of jazz on Friday, Dec. 5, in the first-floor auditorium of the Nancy Cantor Warehouse, 350 W. Fayette St., Syracuse. The lobby of the auditorium will open at 7 p.m., doors will open at 7:30 p.m. and the concert will begin at 8 p.m.
The Upstate Burners features Danny D'Imperio on drums, Gary Smulyan on baritone saxophone, Jeff Stockham on trumpet, Peter Mack on bass and Andrew Carroll on piano.
Tickets for the public are $10 and available at the Schine Box Office. Space is limited. Students in the College of Visual and Performing Arts (VPA) may obtain free tickets by contacting John Coggiola at jccoggio@syr.edu. Free parking is available in the Warehouse parking lots on a space-available basis.
The concert is a Peter Mack production and is presented by VPA. For more information, visit http://vpa.syr.edu.