2016 Senior Class Marshal Application Launched
The Division of Student Affairs has launched the application process for the 2016 Senior Class Marshals. Any current junior graduating in May 2016 is eligible to apply. The application deadline is Friday, Jan. 30, 2015.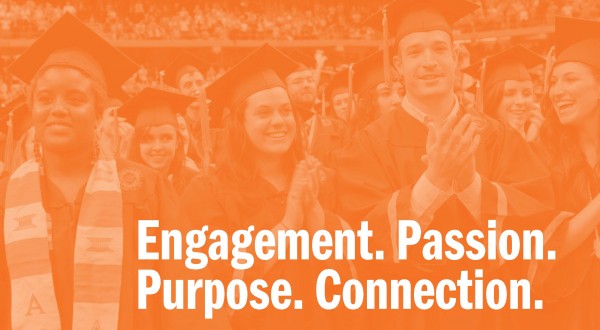 "Every year we receive dozens of outstanding applications that exemplify the spirit and scholarship of our great institution," says Sylvia Langford, associate vice president of Student Affairs and chair of the selection committee. "The students selected as Senior Class Marshals become part of an amazing tradition here at Syracuse University."
Applicants are assessed by their scholarship, campus and community engagement, exhibited school spirit and a written essay. Selected finalists will be invited to interview with the search committee in February. Only two rising seniors will be selected to represent their graduating class as the Senior Class Marshals. As marshals, the students will have the opportunity to meet with senior-level University administrators to share feedback on their experience at SU, participate in exclusive networking opportunities, represent their class at special University-wide events and help to select the 2016 Commencement speaker.
"Make that critical choice to be an active player in your education, your university and your experience," says Ronald Taylor, a 2015 Senior Class Marshal. "This is not an award solely for merit, but for your willingness to be an advocate for many people with an atypical platform."
"It has been a great honor to represent my class thus far as a University Marshal," says Ashlee Newman, a 2015 Senior Class Marshal. "It is a culminating point for me in my undergraduate career to be able to be active on behalf of my class and I encourage anyone that has spent their time here at SU working hard to make a difference to apply. There is nothing more gratifying than being able to truly be a voice for your class and the student body at large."
More information and the application details can be found on the Senior Class Marshal website. For questions, contact 315.443.9153 or ahumphre@syr.edu.