Campus & Community
Winterlude Is Back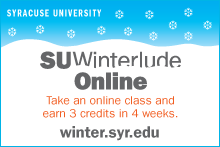 Winterlude is back, with many more classes to choose from! Winterlude offers students the opportunity to earn three credits in four weeks. The online session will run from Dec. 15, 2014-Jan. 9, 2015.
All Winterlude classes are offered completely online and students are limited to taking one class. Winterlude tuition is not included in the full-time academic year tuition charge. Financial aid may be available based on demonstrated need.
Registration begins Nov. 12. Visit http://www.winter.syr.edu, call 315-443-9378, or e-mail winter@syr.edu for more information.