Whitman School Ranked #8 for Marketing Degree
The Martin J. Whitman School of Management has been named among the top 10 places in the U.S. in the U.S. to get a marketing degree , according to USA Today. The newspaper based its ranking on College Factual's ranking methodology for overall academic quality. Salary data also was provided by PayScale, according to USA Today.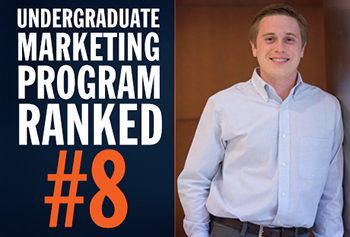 The article states that "Syracuse University houses one of the most esteemed business schools in the country," and the Whitman School is "famous for providing students with an innovative education" with "small class sizes and a world-class faculty."
According to USA Today, graduates earn an average starting salary of $52,000 and mid-career salary of $92,000.
Whitman's marketing management program is designed for students to encounter all the basic challenges in the industry: how a company decides what to sell, which customers and markets to target and the best means of reaching them. In many courses, students work in project teams—just as professionals do—to create strategies for product development, pricing, promotion and distribution. They learn to respond to the demands of competitors, the government and larger social issues.
Whitman marketing management graduates are prepared for broad and promising career options, including advertising and promotion management, business-to-business marketing, consulting, marketing management, marketing research, new product development, product and brand management, retailing and wholesaling, sales management and managing a family business.