Whitman MBA Program Ranked #69 In the Country by Bloomberg Businessweek
The Martin J. Whitman School of Management earned the #69 spot in Bloomberg Businessweek's biennial ranking of top, fulltime M.B.A. programs. The ranking includes 112 schools globally. Whitman's M.B.A. program was chosen from more than 700 business schools that hold the prestigious AACSB accreditation nationwide.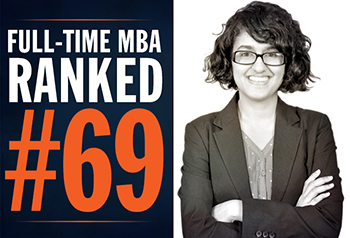 "We're pleased to be ranked again by Businessweek, validation of our continued efforts to maintain a relevant and challenging curriculum combined with experiential learning opportunities," says Don Harter, Whitman's associate dean for master's programs. "This ranking is evidence of what we already know—that Whitman's learning environment produces well-prepared, well-rounded business leaders. Our focus not only on curriculum but also real-world, practical experiences uniquely prepares our M.B.A. students for successful business careers."
Whitman's M.B.A. program incorporates both the theoretical background and practical experience students need to succeed in today's ever-changing global economy. The program's experiential learning component encourages students to apply classroom learning to business problems, connect with decision makers and deliver tangible results that add value to sponsoring organizations. Students build an experiential portfolio through internships, consulting, specialized courses, community engagement and other practical experiences that make them more valuable in the marketplace.
One of the leading online MBA programs in the country, Whitman's MBA@Syracuse program is also highly ranked. Financial Times ranked the online MBA #9 in the world in 2014.  For a complete list of Whitman's rankings, visit http://whitman.syr.edu/recruiters/programs-curriculum-rankings.aspx.
The Bloomberg Businessweek ranking is based on three elements: a survey of newly minted MBAs, a poll of corporate recruiters and an evaluation of faculty research output. This year, there were some changes to the methodology, which resulted in 24 schools that were unranked in 2012 entering the ranking this year.
The top 30 U.S. schools and top 10 international programs are highlighted in the Nov. 11 print issue of the magazine; the complete ranking of full-time MBA programs is featured at http://www.businessweek.com/bschools/rankings.