Campus & Community
'Orange is the New Black' Actress to Speak Nov. 19 at Hendricks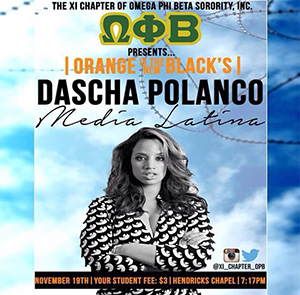 Actress Dascha Polanco, from the Netflix series "Orange is the New Black," will answer questions on being in the media as a Latina during an event Wednesday, Nov. 19. The event is being organized by the Omega Phi Beta Sorority and will take place at 7:17 p.m. at Hendricks Chapel.
Polanco plays the jailbird sweetheart, Dayanara Diaz, who ends up falling in love with one of the jail guards.
During Polanco's appearance, questions will be focused on gender, body image and what it is like to be a woman who is full-figured in the media, being a role model to women of color and what she has planned for the future that would impact the community.
Tickets are being sold at the Schine Student Center's Box Office for $3.