On the 'Sound Beat'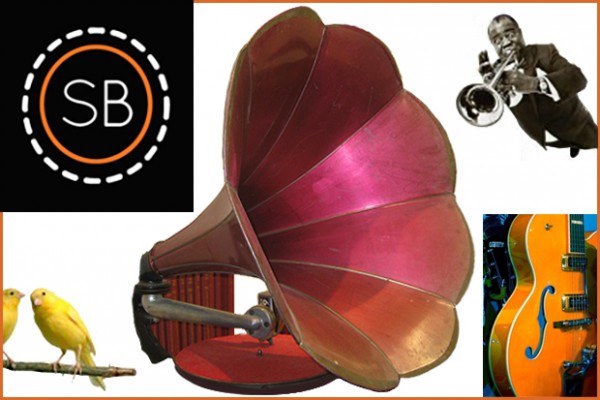 When you tune in to "Sound Beat" on any of about 200 public radio outlets, including WAER, you're never sure what you're going to hear. It could be 90 seconds of blues or classical music. It could be an old Vaudeville routine. Or it could be canaries tweeting the "Emperor Waltz."
"Sound Beat," which debuted in March 2011, is a daily radio program produced by the Syracuse University Libraries, using the extensive holdings of sound recordings from the 1890s to the 1970s in the Belfer Audio Archive. The original idea came from David Marc, who was a member of the Library Associates, and was championed by then-Dean of Libraries Suzanne Thorin; David Murray, former assistant dean for advancement; and Pamela Whiteley McLaughlin, director of communications for Syracuse University Libraries and project manager for the program.
They wanted to get the word out to the wider world about the treasures that reside in the Special Collections Research Center, and in Belfer in particular, which has existed for more than 50 years. Its holdings, while not available to the general public, are available for teaching and research, according to Belfer Director Jenny Doctor.
Some of the recordings, including wax cylinders from the early days of recording, are extremely fragile, which is why Belfer has started the daunting process of transferring all of its holdings to digital format. The needs of "Sound Beat" help to prioritize this process—any recording to be used on the program is digitized completely, even if only 10 seconds are to be used. If the recording is part of a set, the whole set is digitized, says Doctor.
Any commercial sound recording that is contained in the Belfer Audio Archive is fair game to be used on the program. And since Belfer is one of the largest privately held audio collections in the country, the possibilities are, if not endless, then close enough to keep Jim O'Connor busy for the foreseeable future.
O'Connor is the primary writer for "Sound Beat." He came into the job with varied writing experience and a love for music, and has honed his skill in writing minute-and-a-half episodes on a wide range of topics.
"We decided we didn't want to just play the music," he says. "We wanted to tell the story of the music." Each edition of the program includes 20-30 seconds of just music (or speech, in the case of a spoken word recording), filled out with a bit of history.
For example, on the Oct. 13 episode, trumpeter Louis Armstrong plays his hit "Ain't Misbehavin'" from the Broadway Revue "Hot Chocolates." The narrator tells the story of how, on his first European tour, Armstrong got his enduring nickname, Satchmo.
All of the episodes, with the exception of a few celebrity stints (such as one by sportscaster Mike Tirico '88), are narrated by Brett Barry '97, G'13, a Newhouse alumnus who has built a career as a voiceover artist.
"We try to tell a tightly packed chapter of a story," O'Connor says. "If music isn't at the forefront, it's usually driving the episode."
Thirty seconds of music, 90 seconds overall: sounds like a cinch, right? But most writers can tell you that writing something short is way more difficult than writing something long. To quote Mark Twain: "I didn't have time to write a short letter, so I wrote a long one instead."
When O'Connor is working with students as part of the Sound Beat Class Partnership, he first has them write a 500-word essay on a particular recording. Then they must cut their work to 250 words, then to 125, about the length of a "Sound Beat" script.
Last year, instructor Jeffrey Pepper Rodgers invited O'Connor to work with his honors class, called "Inside the Words and Music," which explores the history and evolution of songwriting in America. Students chose songs from a list of about 30 that O'Connor and Rodgers had compiled of pieces that would be interesting and relevant to what had been discussed in class, as well as having the potential to work well for Sound Beat.
O'Connor and subject specialist librarian Patrick Williams talked to the class about how to research the subjects they had chosen and how to write for the program. Then the students went to work.
"I really tried to encourage them to go deeper than Google and Wikipedia in their research," Rodgers says. Some of the songs were connected with historical events, which allowed the students to do research in newspaper archives and other resources compiled by Williams and fellow subject specialist librarian Rachel Fox von Swearingen in the Sound Beat Research Guide.
From that first class, about a dozen scripts were deemed good enough to make it on the air, Rodgers says. (For a sampling, click here.) That encouraged him to repeat the project this semester.
The Class Partnership program is funded in part through a grant from the John Ben Snow Memorial Trust. It also received a National Endowment for the Humanities grant in 2011-12. Sound Beat has been featured in art and music histories classes, as well as African American studies, in addition to Rodgers' honors class.
O'Connor plans out the episodes about two months in advance, and sometimes he will devise a week of topics around a theme, such as National Poetry Month or murder ballads. He says he usually doesn't have a lot of trouble coming up with topics, but he has been known to comb through the Library of Congress designations or names of genres to spark an idea. He is helped by sound engineer Robert Hodge's knowledge of the collection, which is "phenomenal," O'Connor says.
While he was fairly knowledgeable about music history coming into this position, O'Connor admits he's grown a lot on the job. "It's been an amazing education," he says.