Campus & Community
'Lotts of Giving Hands' Crockpot Lunch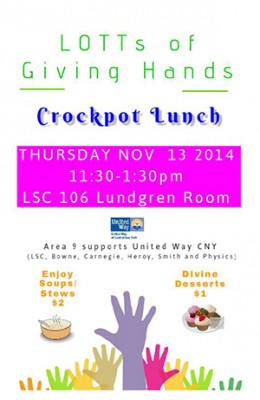 Please join us this Thursday, 11/13/14 for a delicious lunch to benefit the United Way of Central New York. There will be a selection of mouth-watering hot entrees to choose from, and a variety of drinks and desserts.
Place: 106 Life Sciences Complex
Time: 11:30 a.m. – 1:30 p.m.
For takeout orders, call x3922 no later that 11:00 a.m.
Help "Area 9" honor our former area chair Evelyn Lott by supporting the United Way! See you Thursday!!
Contact: Sally Hallahan
S.U. Area 9, United Way Campaign
443-3922
swhallah@syr.edu