Campus & Community
Habitat for Humanity Taking Orders for Care Packages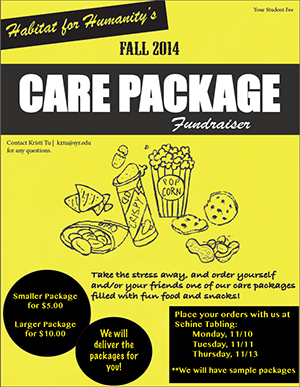 Students with Habitat for Humanity are offering a fun way to take the stress away, while raising funds for the chapter's work.
The Syracuse University and SUNY-ESF chapter is placing orders for care packages Tuesday, Nov. 11, and Thursday, Nov. 13, in the Schine Student Center. Students can order one for themselves or for their friends.
Smaller packages cost $5 and larger ones are $10. Packages will be filled with snacks, such as cookies, chips, candy, gum and other items and delivered to the recipients by organization members before Thanksgiving break. Items can also be substituted, if necessary due to allergies.
Profits will go to support the work of the chapter.
For more information, contact Kristi Tu at kxtu@syr.edu.