Arts & Culture
Documentaries on Frank Langella '59, Arthur Storch Air This Month on WCNY-TV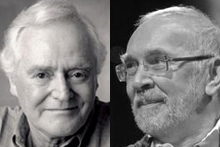 Two American theater greats with ties to Syracuse University are the subject of separate documentaries set to air this month on Central New York's Public Broadcasting station, WCNY. Both were produced by Syracuse University Electronic Media Communications.
On Nov. 15 at 11 p.m., Syracuse University alumnus Frank Langella will be in the spotlight with "Frank Langella: An Actor's Actor," in which Langella reflects on his long and distinguished career in film and on Broadway. The three-time Tony Award winner discusses his challenging portrayal of Richard Nixon in "Frost/Nixon" and many other roles. Langella's love for the process of filmmaking and his take on being able to trust the director's vision is revealed. Langella also reflects on how an actor learns to inhabit characters and transform roles from the stage and screen, applying them to life by discovering the rewards of doing the "things that frighten you rather than taking the easy road."
On Nov. 22 at 10:45 p.m., Syracuse Stage's founding artistic director, Arthur Storch, will be the subject of an up-close-and personal look at his life as both an actor and director in "From Broadway to Syracuse: The Journey of Arthur Storch." On Broadway, Storch worked with some of the biggest names in the American Theater. He's also remembered as an insightful pioneer of the regional theater movement of the 1960s and '70s, putting Syracuse Stage on the map artistically and leading the 1980 renovation of Syracuse Stage's 500-seat Archbold Theatre. Storch was integral in creating the unique relationship between Syracuse Stage and SU Drama, which through his efforts blossomed into a national model for sharing resources and talent between an undergraduate training program and a professional theater.
Both documentaries are productions of Syracuse University Electronic Media Communications. Stu Lisson, executive producer and director, credits his production team and WCNY for helping share Langella and Storch's inspiring stories with Central New York viewers.