Adult Beginners' Tap Class Brings Friendship, Joy in 'Stepping Out'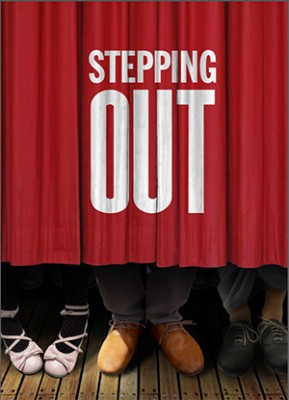 Led by Mavis, a patient and talented dancer, and accompanied by the acerbic Mrs. Fraser on piano, "Stepping Out" follows the ups and downs of nine women and one man who meet weekly in a church hall for a beginning tap class. Throughout, playwright Richard Harris explores the shifts in the lives of the characters as they work together to rehearse and perform a polished routine at a charity fund-raiser. As the students struggle to learn basic tap with varying degrees of success, they start to realize they are developing much more than just tap knowledge. "Stepping Out" is an insightful look at friendship and the joy that can be found from gathering together, if only once a week.
Presented by the Department of Drama (SU Drama) in the College of Visual and Performing Arts, "Stepping Out" performs Nov. 14-22 in the Storch Theatre at the Syracuse Stage/Drama Complex, 820 E. Genesee St. Tickets range $17-$19 and can be purchased at http://vpa.syr.edu/drama/tickets, by phone at 315-443-3275 or in person at the Box Office Monday through Friday, 10 a.m.-5 p.m.
"Stepping Out" opened in London's West End in 1984. That year it won the London Standard's Best Comedy Award and went on to enjoy a run that lasted three years. In 1987, Tommy Tune directed a Broadway production and in 1991, Liza Minnelli starred in a film adaptation. A musical version opened in London in 1997. It is one of those plays that is always being performed somewhere for the simple reason that it is very human and very funny.
The inspiration for the show came from Harris' late wife, Hillary Crane: "My wife started her career as a dancer … so she went down to the local dance class, and when she came back she suggested that I should go and have a look, as she felt there might be a play in it for me." Taking his wife's advice, Harris visited the local church hall. "My wife hadn't been to the tap dance class … she went to join a modern dance group, so it was pure luck that I happened to go there and look through the window … It struck me that they all seemed to be thoroughly enjoying themselves. And I thought if I could capture that. It might be a winner!"  (http://www.offwestend.com)
"This is one of those plays that creeps up on an audience," says director Timothy Davis-Reed. "Before you quite realize it, you find yourself caring about these people." Davis-Reed also goes on to say, "None of these characters, none of these lives, seem particularly extraordinary. There's an everyday quality about them. But that's the strength. Like us, these are ordinary people confronting ordinary concerns and because we can recognize ourselves in them, it becomes compelling, and of course, quite humorous."
Reed is a proud graduate of the Syracuse University Drama Department, and teaches "On-Camera Acting," "Audition Technique" and "Scene Study." He most recently directed "Top Girls" for the Department of Drama. Other directing credits include "Memory of Water," "Our Town," "Loose Knit," "Tales of Whimsy," the Faculty One-Acts and several independent projects and plays for the New Play Festival. As an actor, he has appeared in over 150 episodes of network television, including two seasons as a series regular on "Sports Night" and six seasons as White House Press Reporter Mark O'Donnell on the Emmy-winning hit "The West Wing."