VPA's 'Painting Alumni Retrospective' at 914Works to Feature Prominent Artists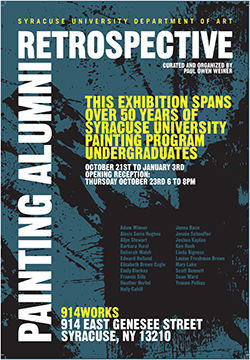 The College of Visual and Performing Arts will exhibit the work of painting undergraduates from the past 50 years in "Painting Alumni Retrospective" Oct. 21-Jan. 3 at 914Works, 914 E. Genesee St., Syracuse. An opening reception will be held on Thursday, Oct. 23, from 6-8 p.m.
The breadth and diversity of "Painting Alumni Retrospective" stand as evidence of the University's lasting impact on American culture since it became the first institution in the United States to offer a bachelor of fine arts degree 140 years ago.
The exhibition includes small works by 21 alumni of the undergraduate painting program from the Class of 1959 to the Class of 2014. The exhibition shows the evolution of painting over a half century, from action painting to conceptual, post-conceptual, representational, interdisciplinary and contemporary works. As such, the exhibition addresses the historical phenomenon of American painting and the impact Syracuse University has had on the medium from the reign of critic Clement Greenberg '30 to the contemporary conversation.
The artists represented include Barbara Vural '59, Louise Freshman Brown '62, G'63, Ken Rush '71, Scott Bennett '74, Deborah Walsh '77, Allyn Stewart '77 G'89, Linda Bigness '81, Elizabeth Brown Eagle '90, Yvonne Petkus '91, Heather Hertel '95, Francis Sills '96, Holly Cahill '98, Alexis Serio Hughes '98, Jennie Schaeffer '00, Adam Winner '01, Edward Holland '03, Emily Dierkes '06, Sean Ward '07, Joshua Kaplan '08, Mary Luke '14 and Jenna Race '14. Combined, they have amassed prestigious recognitions, including more than 50 museum exhibitions and a wide array of press coverage and critical acclaim from the likes of the New York Times, ARTnews, Greenberg and the Syracuse Post-Standard.
914Works is open Tuesday-Saturday from 10 a.m.-6 p.m. For more information, contact the gallery at 914works@syr.edu.