University to Help Out with New York Campus Crunch
Syracuse University is joining several schools throughout the state to crunch into a New York State apple and help set a record of over 1 million crunches on Friday, Oct. 24. Anyone may participate in the event—student, staff or faculty.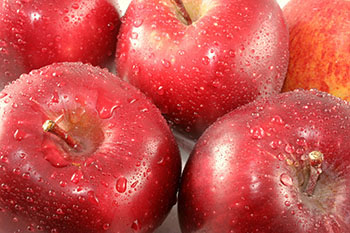 Participants are asked to crunch into a New York State apple to affirm their commitment to food that is healthy for people and the planet. The event is part of the Big Apple Crunch effort, hosted by GrowNYC, Food Day, the Mayor's Office of Food Policy and American Farmland Trust in an attempt to set the world record.
Anyone may participate by biting into an apple, taking a selfie and posting it with the hashtag #NYCampusCrunch and #SUapplecrunch. The SU hashtag will allow everyone to see which participants are from Syracuse University.
SU will be hosting Crunch events at the following locations:
Schine Dining—Crunch into an apple with Coach Boeheim in the Schine Dining food court at noon. Beak & Skiff will donate apples.
All dining centers—Count down to crunch in any dining center on campus. There is an assortment of New York State apples for every taste.
The main Crunch is at noon, but if you crunch later on in the day that is OK. The point is to grab an apple, crunch it, take the picture, and post on Oct. 24.
A series of short videos featuring people on the SU campus will be posted daily on the SU Food Services Facebook page beginning Thursday, Oct. 16, leading up to the event.