Campus & Community
United Way Holds 'Food and Photo' Campaign Kickoff Thursday in Schine
All members of the University community are invited to join the Syracuse University United Way committee, and Otto, Thursday, Oct. 16, from 2:30-4 p.m. in the atrium of the Schine Student Center for a food and photo campaign kickoff celebration. Staff who bring their completed United Way pledge card or make a donation to the United Way at the event will receive free desserts donated by Campus Catering, and will get a free photo with Otto. Pledge cards will be available at the event.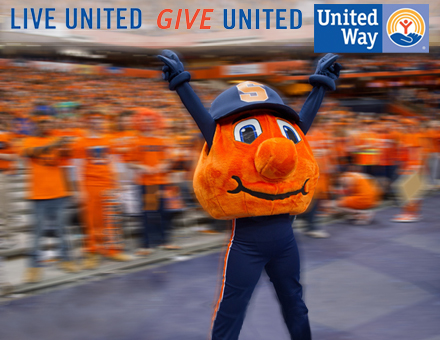 The University has held a United Way campaign on campus each fall for more than 40 years. The organization is the only nonprofit the University partners with as "one University," with payroll deduction as an option for giving. The dollars contributed to the United Way stay local—supporting 34 nonprofit agencies and 91 local programs.
In the last 10 years, Syracuse University employees have contributed more than $1.5 million dollars to the United Way, and each of those years it has ranked among the top 20 employee campaigns in Central New York. Campaigns held in 2012 and 2013 earned the University a ranking of seventh place in overall giving among Central New York institutions.
A pledge card, with a message from Chancellor Syverud and Dr. Ruth Chen, was mailed to all employees this week. And an e-Pledge solicitation— a secure paperless giving option—will be emailed to all staff each Wednesday through Nov. 5.
"Last year, the United Way was able to fund less than half of the requests in received from local agencies," according to Bea Gonzalez, chair of the 2014 campus campaign. "Our goal as a committee is to broaden our employee donor base and encourage new donations of any amount to help meet the needs of our community."
Employees who give for the first time, or who raise their gift by a dollar per week, are automatically entered into the United Way's Step Up Challenge program, which awards daily prizes.
For updates on the campaign's progress, and information on how and why to give, visit the new Syracuse University United Way campaign website at http://uw.syr.edu. And for more information about the United Way, its funded agencies and its impact on the community, visit its website at http://unitedway-cny.org.