SU Champions National Cyber Security Month During October

National Cyber Security Awareness Month (NCSAM)—observed every October—was created as a collaborative effort between government and industry to ensure every American has the resources they need to stay safer and more secure online. Here at Syracuse University, Information Technology and Services (ITS) is championing this cause by raising awareness of phishing and other security topics throughout the month.
During October, ITS's Information Security group is reaching out to students, faculty and staff with awareness events at Schine Student Center and several dining halls. A workshop on Oct. 27, presented by Christopher Croad, Syracuse University's information security officer, and his staff will feature hands-on demonstrations of security threats and ways each member of the SU community can counter them.
"People are the favorite target of hackers when it comes to cyber security'" says Croad. "Given proper training and awareness, our people can become our strongest line of defense."
The education sector sees some of the highest numbers of reported data breaches among industry sectors, including retail merchants, healthcare operations and the U.S. federal government. Almost 30 percent more data breaches have been reported nationwide so far this year compared to the same period last year.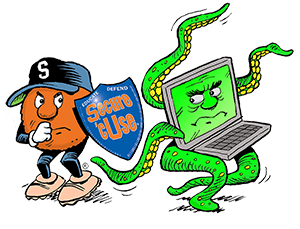 "Email is our primary tool of communications," says Croad, "and a favorite way for hackers to try to get people to disclose personal information like passwords or financial information." He reminds all that:
Nobody at the University or ITS will ever ask you to verify your SU NetID or password through an email. "It's best to never respond to email asking you to verify or enter any personal information," says Croad.
Emails, and the sites their links lead to, can be easily made to look like trusted, familiar sites. Never click on a link in an email without checking its web address, or URL (uniform resource locator) first. Hover your cursor over the link to display its URL, and verify the destination. "Even if the URL looks trustworthy, it is best to type the site address manually into your browser, or use a bookmark you set up previously," says Croad. "What you lose in convenience you gain in protection."
According to Sam Scozzafava, SU's interim chief information officer and vice president for Information Technology and Services, "All members of the University community must work together to protect not only the institution's resources, but also our personal information, devices and online identities. National Cyber Security Month calls attention to the things each of us can do to keep personal and University data safe and secure."
For more information about NCSAM and IT security at SU visit http://securecuse.syr.edu.