Strategic Plan Open Forum Set for Oct. 6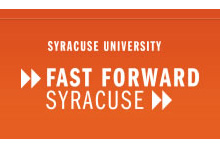 The University community is invited to attend Open Fora meetings to fuel discussion and provide an opportunity to share ideas about the Strategic Plan, one of the components of Fast Forward Syracuse.
Monday, Oct. 6, 11:30 a.m.-1 p.m., 010 Crouse-Hinds Hall
Attendees are invited to share their input/statements.
The Strategic Plan working groups are:
Undergraduate excellence: Providing a world-class undergraduate experience inside and outside the classroom and achieving strong outcomes.
Strategically focused research and doctoral programs: Targeted investment to achieve excellence and impact in areas of great opportunity.
Leadership in veterans and military affairs: Building on history and opportunity to achieve national leadership in research, teaching and support.
Enhancing internationalization: Leveraging internationalization on campus and in the world, in teaching and in research to create a stronger, more relevant University.
Change: innovation and institutional renewal: Establishing the culture, structures and mechanisms to ensure that Syracuse University undergoes productive change.
Student- and faculty-centered operations: Ensuring that University units and operations prioritize the student experience and faculty productivity.
Professional program excellence: Providing distinctive professional programs, including master's programs, online programs, executive education, certificate programs and other
initiatives that prepare students and professionals to become leaders.
Fast Forward Syracuse is a University-wide initiative to provide the key strategic direction and framework for propelling the University forward, fostering academic and operational excellence, and meeting the challenges ahead.