Campus & Community
Physicist to Speak on 'Motile Matter'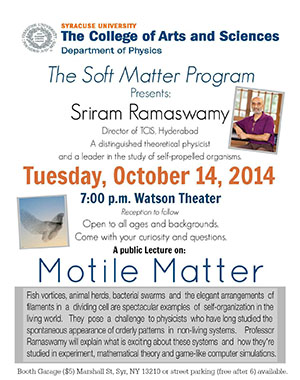 Sriram Ramaswamy, director of Tata Institute of Fundamental Research, Hyderabad, India, and a distinguished theoretical physicist, will speak Tuesday, Oct. 14, on "Motile Matter." The lecture will take place at 7 p.m. in Watson Theater, and is presented by the soft matter program in the Department of Physics.
Fish vortices, animal herds, bacterial swarms and the elegant arrangements of filaments in a dividing cell are spectacular examples of self-organization in the living world. They pose a challenge to physicists, who have long studied the spontaneous appearance of orderly patterns in non-living systems. Ramaswamy will explain what is exciting about these systems and how they're studied in experiment, mathematical theory and game-like computer simulations.
A reception will follow the lecture.