Orange After Dark: Something to Do When 'There's Nothing to Do'
When Robin Berkowitz-Smith was an undergraduate at Syracuse University, she remembers hearing students say, "There's nothing to do." Almost 30 years later Berkowitz-Smith, now associate director of residence life at SU, still hears the same refrain.
About four years ago, the Office of Residence Life and the Division of Student Affairs decided to do something about it. That was when a committee was formed to provide some safe, alternative late-night activities for students.
"People were skeptical," she says. "We knew it had to be entertaining, something the students wanted to do. It also had to have some regularity to it, so the students could plan."
The committee put together a pilot program of six late-night activities over the course of a semester, and got co-curricular funding from the Division of Student Affairs. And thus was born Orange After Dark.
The activities that first semester included things like a trip to the water park at Greek Peak, a local movie premiere and bowling. They all sold out, with about 200 students at each event. The only one that didn't seem to strike the right note, and wasn't repeated, was a semiformal.
The pilot program showed there was a desire for activities like these, so Orange After Dark was made a permanent program under the Division of Student Affairs. Berkowitz-Smith and Dave Sargalski, director for student engagement in the Office of Students Activities, took on the task of running it.
Four years on, Orange After Dark is a smashing success. The program puts on an event about every other week during the fall and spring semesters. Water park trips, movie premieres and bowling are still part of the mix, along with trips to WonderWorks at Destiny USA, Fright Night at the Fair, Funny Bones Comedy Club, Howe Caverns and other places. Each trip accommodates 200-800 students, and all are sold out. Each venue is shut down to the public for the evening, accommodating just the SU students.
All events run on a Thursday, Friday or Saturday night, and most start at 10 p.m. or later. (Some start earlier because of the time it takes to transport students to the venue.) Most events don't end before 1 or 2 a.m. There are a couple of big draws. One is that the activities take place off campus, and give students a chance to go places they wouldn't normally go. Perhaps the biggest attraction is that each activity costs just $3.
"Orange After Dark has made an outstanding contribution to the University and has been able to serve every student that may feel bored on a weekend night," says Kevin Gonzalez, an accounting and finance student in the Whitman School of Management. "Through Orange After Dark, students are able to have fun, meet new people and also experience new things while not spending a lot of money."
While the main aim of OAD has been just to provide some fun alternative activities, the surveys that students fill out after taking part show that it accomplishes other purposes as well. Nineteen percent of attendees say they come to meet people, and most of those say it works. Gonzalez says he met his best friends through OAD activities.
Almost all (98 percent) of the students who go to OAD activities report that it was fun. So much fun that many go back again. And while 35 percent of OAD attendees are freshmen, the group isn't made up of just those new to campus—13 percent are seniors.
Berkowitz-Smith would like to see Orange After Dark continue to grow. The fact that the activities continue to sell out show that there is a hunger for the types of things they are providing, she says. One of the roadblocks to this is that many venues can't accommodate larger groups; but OAD may be able to grow by scheduling more frequent events, she says, perhaps more than one session of the same event. Another thing she would like to see in the future is more late-night activities, such as movies, offered on campus. "That way the students would have more of a choice," she says.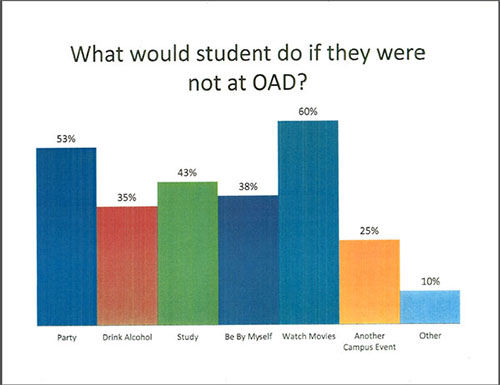 One thing that might have to happen in order for Orange After Dark to grow, however, is for it to develop a sustainable structure that is dedicated just to the program. Right now, Berkowitz-Smith and Sargalski run it in addition to their very busy full-time jobs.
There will probably never be a time when no student says, "There's nothing to do." But Orange After Dark has at least made that cry a little less frequent.