Open Enrollment Begins Nov. 3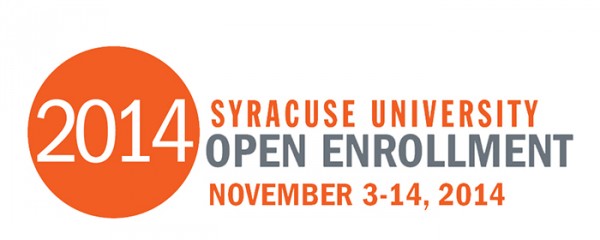 Open Enrollment, the annual period when Syracuse University staff, faculty and other eligible individuals make their benefit choices for the coming year, begins Monday, Nov. 3, and continues through Friday, Nov. 14.
There is good news to share for 2015, with rates for the University dental plan decreasing by 8 percent. Also, those eligible for health care coverage will see the smallest rate increase in years. This and other benefits news and information is available on the new Open Enrollment website—http://oe2014.syr.edu—just launched by the Office of Human Resources.
On the website you will find benefit newsletters targeted to specific audiences—faculty and staff, graduate assistants and fellows, and part-time instructors eligible for the modified benefits plan—as well as information on flexible spending accounts, financial planning opportunities and other benefits-related topics.
During Open Enrollment those eligible to participate in a flexible spending account for health care or dependent care must decide how much they will contribute to each account for 2015. This is also the year to elect or waive coverage under the University dental and vision plans for the next two years.
As in years past, Open Enrollment will be conducted online through MySlice. If you have any questions about Open Enrollment or benefits, please contact the Human Resources Service Center at 315-443-4042 or hrservic@syr.edu.