Democratizing Knowledge Receives Mellon Grant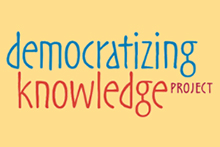 The Democratizing Knowledge Project (DK), a Syracuse University interdisciplinary collective of faculty and graduate students, has been awarded a four-year, $500,000 grant from the Andrew W. Mellon Foundation to fund a series of summer institutes titled "Just Academic Spaces: Creating New Publics through Radical Literacies."
The Democratizing Knowledge (DK) Summer Institute, Just Academic Spaces, will bring together faculty, advanced doctoral students and activist-scholars from the humanities and social sciences across the country to understand the current state of U.S. higher education, explore productive dialogues between community organizations and activists, and scholar-activists in the academy and build collaborations and strategies to create a more just academy. The first institute will be hosted by Syracuse University in 2016, followed by Rutgers University at Newark in 2017 and Spelman College in 2018.
The 2016 Institute will feature local community projects such as La Casita Cultural Center, the Dunbar Center, and Art Rage Gallery—projects that produce social justice interventions, validate marginalized experiences and create radical literacies to empower their communities.
Principal Investigators Linda Carty, associate professor of African American Studies, and Chandra Talpade Mohanty, Distinguished Professor of Women's and Gender Studies and Dean's Professor of the Humanities, have long histories of bridging activism and scholarship. Both have published extensively on topics of race, feminism, labor, politics of knowledge and U.S. higher education, and are currently engaged in multiple collaborative scholar-activist projects.
Emphasizing the role of the university as a public good, the DK Project, formed in 2009, demonstrates the public value of university scholarship and fosters collaborative projects with community leaders and activists to improve local conditions in the public schools, the environment, public health and other areas.