Comedian Kevin Hart to Visit Campus Nov. 2
University Union will be bringing comedian Kevin Hart to Syracuse University on Nov. 2. Hart's appearance will take place in two parts: first, he will be screening his new film, "The Wedding Ringer," in advance of its Jan. 16 release date and taking part in a Q&A with film co-star Josh Gad. The film screening and Q&A will take place at 2 p.m. in HBC Gifford Auditorium. The second part will take place at 7 p.m. in Goldstein Auditorium, where Hart will perform a stand-up comedy routine.
The movie screening and Q&A will be a free, ticketed event, open to all Syracuse University and SUNY ESF students, while tickets to the stand-up event will be $10.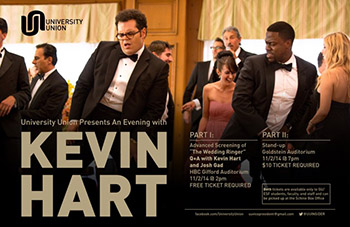 After first gaining success in feature films like "Paper Soldiers," "Scary Movie 3" and "Along Came Polly," Hart released "Laugh At My Pain," the feature film version of his comedy tour, in September 2011 to massive acclaim. The movie grossed over $7 million, and was 2011's most successful film of those released in fewer than 300 theaters.  The tour also catapulted Hart to the position of 2011's number one comedian on Ticketmaster, and in February 2011, he sold out the Nokia Theater in Los Angeles for two nights in a row, breaking the record previously set by Eddie Murphy. The "Laugh At My Pain" DVD went double platinum after being on sale for just one month.
In 2012, Hart was tapped to host the 2012 MTV Video Music Awards, garnering much industry praise for his appearance, before his next comedy tour, "Let Me Explain" took him to 90 American cities along with Europe and Africa. On this tour, Hart became only the second American in history to sell out London's O2 Arena. He spent the fall of 2012 filming two movies back to back: Screen Gem's re-make of "Sexual Perversity," titled "About Last Night," and Universal's buddy Cop movie "Ride Along," opposite Ice Cube.  Hart continued his run with a starring role in Screen Gem's "Think Like A Man," which grossed $95 million worldwide. "The Wedding Ringer" stars Hart and Gad, along with "The Big Bang Theory"'s Kaley Cuoco.
Tickets for both the film screening and stand-up performance are on sale at the Schine Box Office. Tickets are available to all Syracuse University and SUNY ESF students, and a valid college I.D. is required to purchase tickets. Doors for the film screening in HBC Gifford will open at 2 p.m., while doors for the stand-up event in Goldstein will open at 6:15 p.m. The event takes place on Family Weekend 2014, and students are encouraged to purchase tickets for their family members as well as themselves.