Chi Chapter of Kappa Alpha Theta Celebrates 125th Anniversary
The Chi chapter of Kappa Alpha Theta will celebrate 125 years of sisterhood at Syracuse University Oct. 10-12. As the weekend falls during Orange Central, the sisters will be joined by alumnae members from throughout the chapter's rich history.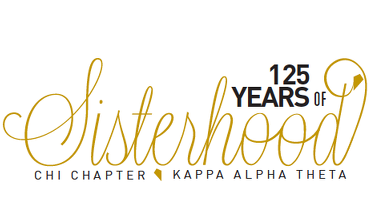 The weekend begins with a dinner celebration at Drumlins Country Club on Friday, Oct. 10, for all sisters of Kappa Alpha Theta. The keynote speaker will be Molly Corbett Broad '62, president of the American Council on Education.
On Saturday, Oct. 11, current chapter members will host tours of the chapter house and SU campus for visiting alumnae prior to the SU vs. Florida State football game. Additionally, members will host their annual "Queso for CASA" event with proceeds benefiting Kappa Alpha Theta's national philanthropy, Court Appointed Special Advocates.
A farewell brunch will take place at the chapter house on Sunday, Oct. 12.
In its 125 years at Syracuse University, the Chi chapter of Kappa Alpha Theta has been a vital part of campus life, creating leaders and students dedicated to philanthropy and educational excellence. The weekend presents an opportunity to celebrate not only these exceptional women, but the 2,512 women who have called the Chi chapter their home since 1889.
Kappa Alpha Theta, was founded in 1870 at DePauw University in Indiana and is the first Greek-letter fraternity for women. The organization supports 129 college chapters and 197 alumnae groups across the United States and Canada, and membership totals more than 215,000 women.