Campus & Community
"The Unspeakability of Trauma, the Unspeakability of Joy" by Amy Hollywood
Amy Hollywood, the Elizabeth H. Monrad Professor of Christian Studies at Harvard Divinity School, will be presenting a lecture on Thursday, Sept. 18, at 7 p.m. The lecture will take place in Slocum 214.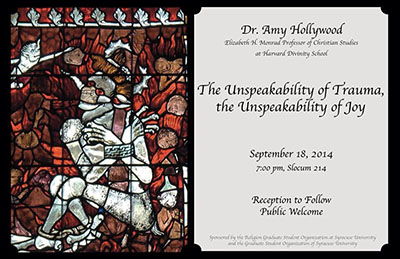 The next morning, Friday, Sept. 19, at 10 a.m., she will hold a special seminar for graduate students. If you would like to attend, please email Courtney O'Dell Chaib at ceodell@syr.edu.
Hollywood is the author of "The Soul as Virgin Wife: Mechthild of Magdeburg, Marguerite Porete, and Meister Eckhart" (University of Notre Dame Press, 1995), which received the Otto Grundler Prize for the best book in medieval studies from the International Congress of Medieval Studies; "Sensible Ecstasy: Mysticism, Sexual Difference, and the Demands of History" (University of Chicago Press, 2002); and, forthcoming from Columbia University Press, "Acute Melancholia and Other Essays." She is also the co-editor, with Patricia Beckman, of "The Cambridge Companion to Christian Mysticism" (2012).
Professor Hollywood is currently exploring the place of the mystical, often redescribed as enthusiasm, within modern philosophy, theology and poetry.
This event is sponsored by the Religion Graduate Organization and the Graduate Student Organization. (Syracuse University GSO).
Religion Department Syracuse University: http://religion.syr.edu
flyer: http://goo.gl/urIEkG
RSVP: http://ow.ly/3qablY
URL: http://ow.ly/3qablY
Contact: Deborah Pratt
Religion Department, Syracuse University
3154433863
dpratt@syr.edu