TED Talk Sensation and Thought Leader to Hold Dialogue with Students
Jill Bolte Taylor, a world-renowned neuron-anatomist and New York Times bestselling author, will be joining Soulful Sit-Downs, the student-run discussion series about life's big questions, via Skype on Thursday, Sept. 18, at 7 p.m.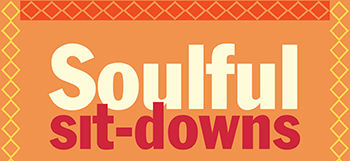 Sean Martinelli '15, a Newhouse broadcast and digital journalism student, will guide the conversation with Taylor in room 204 Tolley. It will be open to students, faculty, staff and the public. The discussion will also be live-streamed online here.
Space for the event will be limited, so those interested in attending should RSVP with Martinelli at stmart06@syr.edu.
"Dr. Taylor fundamentally shifted my perspective on life," Martinelli says. "This will be an eye-opening conversation for students, and all those watching around the world via our global webcast."
In 1996, Taylor found herself suffering a massive stroke that caused her to lose her ability to walk, talk, read and remember details. She recounted her story in the bestselling memoir "My Stroke of Insight," which has since been published in 30 languages. Having lost her left-brain's function following the stroke, Taylor's consciousness shifted entirely into the present moment, where she says she was "at one with the universe".
Known for her widely viewed TED talk, which has garnered over 15 million views, and appearance on "The Oprah Winfrey Show" in 2008, Taylor's work has resonated with countless people from across the world. In 2008, Time magazine also named her one of the world's 100 most influential people.
During Taylor's Soulful Sit-Down appearance, she will share the unique insight and lessons she has gathered over the years since her recovery. Participants will also have the chance to ask her questions about her life's journey.
Soulful Sit-Downs, a program of the Office of Health Promotion within the Division of Student Affairs, are a series of student-run conversations intending to help participants seek a higher expression of themselves, and develop a deeper understanding of their life's purpose.
For more information, contact Martinelli at stmart06@syr.edu.