Soprano Eileen Strempel to Present New Collaborative Work Sept. 22
Syracuse University soprano Eileen Strempel and Eastman School of Music pianist Sylvie Beaudette will present a concert and celebrate the release of their latest compact disc, "unto thee I burn: song settings of e.e. cummings poetry by north american women composers," on Monday, Sept. 22, at 5:30 p.m. in the Sutton Pavilion (Atrium) at Syracuse Stage, 820 E. Genesee St.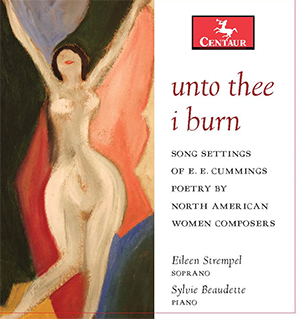 The concert is free, and a cash bar will be available beginning at 5 p.m.
Cummings is considered one of the pre-eminent 20th-century American poets, but few are aware that he supported his "poetry habit" with his paintings. Beaudette learned that "Cummings was so poor that he painted on the cardboard sheets that came back with his dry cleaning," she says. "His patron would purchase the paintings, knowing that provided enough income and time for Cummings to continue writing."
Many of these paintings echo Cummings' poetry style, with a sense of bright ebullience and sensuality, and Strempel and Beaudette obtained permission from a local treasure trove of his paintings at SUNY Brockport in order to use the images in conjunction with their project. Brockport holds a rare collection of over 70 paintings by Cummings, with many slated for restoration. More information is available at http://www.brockport.edu/cummings/intro.php.
The duo's CD—the fourth they have produced together—features one of Cummings' paintings on the cover, along with music expressly composed for the project by Jocelyn Hagen, Judith Cloud, Christine Donkin, Libby Larsen and Regina Harris Baiocchi. The release party is the culmination of years of work. Strempel and Beaudette worked closely with the composers as the songs were composed, refined, performed, and finally recorded earlier this year in New York City. Major support from the project was provided by the Susan B. Anthony Institute and by the Eastman School of Music.
A noted scholar of music by women composers, Strempel is especially enthusiastic about the informal setting for the release party. "I have a vision of a 21st-century musical salon, with a heady mix of people, poetry, song and the visual arts in a convivial setting," says Strempel. "These songs are simply fun—a wide variety of compositional styles and approaches to what I refer to as Cummings' 'longing for the voice.' These are poems that draw composers, singers and audiences alike, because matching Cummings with music is magical."
A native of Camillus, Strempel is a Presidential Scholar in the Arts. She has sung around the world , most notably as Violetta in La Traviata at the Bolshoi Opera, in Bach's B Minor Mass in Avery Fisher Hall and for the Berkeley, Chautauqua and Skaneateles music festivals. A board member of Syracuse's Society for New Music, she is currently the assistant vice president for academic advancement at Syracuse University and a 2011-12 American Council on Education Fellow at Colgate University.
Beaudette, a native of Québec, is an assistant professor of chamber music and accompanying at the Eastman School of Music, and founder and artistic director of Eastman's Women and Music Festival.