Safer People, Safer Spaces Deepens Sense of Allyship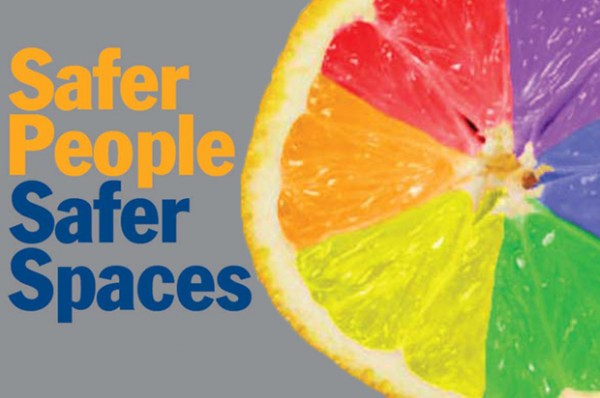 Creating a more caring community starts with understanding.
At the LGBT Resource Center, staff members are helping members of the University community on a path to greater understanding of what it means to be an ally during its sessions on Safer People, Safer Spaces.
Any member of the University community can take part in the three-hour training that provides the content, context and engagement, and incorporating different activities, to develop a sense of allyship.
Being an ally to the LGBT community—or in its broadest sense people with marginalized genders and sexualities—can take different meanings, from a supporter to an advocate.
For D. Chase Catalano, director of SU's LGBT Resource Center, the spirit of an ally is one of continuing discovery.
"Its really about allyship being a process," Catalano says. "It requires commitment, understanding, hope and humility. It is about developing self-awareness and self exploration and to be accountable for the impact of one's actions to themselves and to the broader world."
Those ideals are part of the resource center's definition of allyship, including the need to recognize the pervasiveness of privilege and oppression that exists.
How to participate
The first session of Safer People, Safer Spaces this semester will be held Wednesday, Sept. 24, from 7-10 p.m. Other sessions will be held Friday, Oct. 24, from 2- 5 p.m. and Saturday, Nov. 8, from 1-4 p.m.
Participants need to contact the Resource Center, lgbt@syr.edu, to sign up for the training. Due to the intensive structure of this training, it is limited to a minimum of 20 participants and a maximum of 30 participants in each session.
Individual departments and student organizations can also request a training session.
Safer People, Safer Spaces was developed about two years ago after staff members saw a need to transform the previous training into something more comprehensive.
"We re-conceptualized the notion of it being a 'safe zone' to creating something that allows us to become safer," Catalano says. "Because safety can never be 100 percent guaranteed and it's contextual to the individual, to the location, to a variety of identity factors. So instead of us promising something we can't deliver, we decided to work on just delivering safer people and safer spaces."
During the training, participants engage in various activities and conversations, with very little lecturing, by the two facilitators from Catalano's staff.
"It's all interactive to have participants feel invested in the process," says Catalano, who also facilitates the training.
For example, in one activity, participants pair terms and their correlating definitions regarding marginalized genders and sexualities.
"Then we have a group conversation about terms that are still confusing, terms that may be missing and those that should be present," Catalano says. "It's all about perceptions—what we know or what we think we know—since much of this language constantly changes."
Explore and reflect
Catalano hopes the sessions help people gain a better understanding of language and identities, explore self-perceptions, reflect on what it means to be an ally and engage in conversations about how to address situations where problems arise.
Some participants enter the training with a lot of knowledge; others are looking for answers. But both learn from each other that there isn't always one answer.
"There's no check mark to be able to say I went through this so I must be an ally," Catalano says. "Life is complicated, so what are some of the tools to start learning more and understanding what you need to learn more about."
Catalano hopes participants take away the sense that there are many fields of discussion, more than what can be discussed in three hours, and that they can continue engaging in conversations across campus at other events.
The training also allows connections to grow among the participants.
"They realize they are not alone in the work to develop their allyship," Catalano says. "It's really about building a collaborative relationship where we all take responsibility to learn more and where we become better allies."