Imagining America Journal Releases Volume on Career Paths
Public: A Journal of Imagining America has announced that Vol. 2 No. 2, "Hybrid, Evolving, and Integrative Career Paths," is now available at http://public.imaginingamerica.org.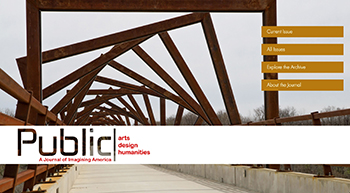 Submissions address alternatives to siloed, static, linear job trajectories that public scholars, designers and artists find and generate. Contributors consider ways of applying skills associated with one discipline to something else, or moving between an academic position and on-the-ground engagement.
Public is a peer-reviewed, multimedia e-journal focused on humanities, arts and design in public life. It presents projects, pedagogies, resources and ideas that reflect rich engagements among diverse participants, organizations, disciplines and sectors. Public breaks new ground as a hybrid online multimedia journal and archive, with innovative web interfaces to peer-reviewed multi-modal scholarship and creative work. To date 6,500 unique visitors from 95 countries have logged on to Public.
Public is part of Imagining America: Artists and Scholars in Public Life, a national consortium of some 100 colleges and universities, currently hosted by Syracuse University, that catalyzes change in campus practices, structures and policies regarding public scholarship and creative practice. It seeks to enable publicly engaged artists, designers and scholars to thrive and contribute to community action and revitalization. IA is committed to the intersection of culture and participatory democracy; Public is aligned with its vision, mission, values and goals. The e-journal also promotes Syracuse University as a national leader in publicly engaged scholarship and practice.
Public was developed by three Syracuse University professors—University Professor and former Imagining America (IA) director Jan Cohen-Cruz, Associate Professor of Architecture Brian Lonsway and Assistant Professor of Design Kathleen Brandt—as the first e-journal to be published by Syracuse Unbound, a joint imprint of Syracuse University Libraries and Syracuse University Press. The University's Information Technology and Support division collaborated on web development and, with Syracuse University Libraries, provides technical support for the journal's content management systems.
In January 2015, Public will accept submissions to Vol 3, No 2, "Globally Engaged Scholarship and Creative Practice." For more information, see http://public.imaginingamerica.org/about/call-for-submissions/, or contact the editor at public@imaginingamerica.org.