Campus Commuter Challenge Kicks Off Oct. 1
Syracuse University students, faculty and staff who walk, bike, carpool or ride the bus to campus between Oct. 1 and Oct. 31 can compete for prizes in Syracuse University's Campus Commuter Challenge.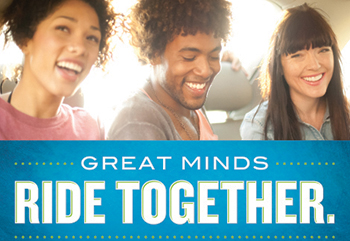 The Campus Commuter Challenge is a friendly competition to encourage the University community to try more sustainable transportation options than driving alone to work. Using the Zimride Syracuse website, students, faculty and staff will be able to log information about their commute.
Here's how to participate:
1. Log in to your Zimride account or create a Zimride account at http://www.zimride.com/syr.
2. Click on your name, and select the "Commute Calendar" option in the drop-down menu.
3. In the transportation mode section, select your mode of transportation and drag and drop the mode onto the calendar.
Points for each mode of transportation are as follows: five points for carpooling; four points for taking the bus; three points for walking; two points for biking, one point for skateboarding and zero points for driving alone. Every time a user reaches 25 points they will be entered into a drawing to win a chance at one of two $25 Amazon gift cards.
Reducing automobile use has many benefits, including cutting greenhouse gas emissions, alleviating campus parking congestion, saving money on gas, improving air quality, reducing noise and traffic and reducing dependence on fossil fuels. Alternative transportation modes also have benefits, including physical exercise, reducing stress and building community.
For more information on the Campus Commuter Challenge, contact Melissa Caldwell at macadwel@syr.edu.