Campus & Community
#HashtagLunchbag Syracuse—Feed The Homeless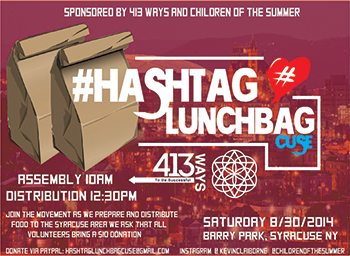 Please join us for the #hashtagLunchbag Syracuse edition!
Hashtaglunchbag is a nonprofit organization based out of California that holds monthly events across the nation to feed the homeless and inspire others to give back, by sharing the experience via social media, and this is the first Syracuse event.
Why: Eliminate hunger & inspire the Syracuse community to get involved because it's cool to give back!
When: Aug. 30
Assembly: 10 a.m.
Distribution: 12:30 p.m.
Where: Barry Park
How: Volunteers will join us as we package and distribute lunch bags for the needy in our city. All ages can join! We ask that volunteers bring a $10 donation to cover the costs of food.
Donations can be brought in person or sent via Paypal to hashtaglunchbagCUSE@gmail.com
This event is being sponsored by 413 Ways, LLC and Children of The Summer
For contact:
@kevinclaiborne on Instagram
URL: http://www.hashtaglunchbag.org
Contact: Kevin Claiborne
413 Ways, LLC
2024419038
krclaibo@syr.edu