Veterans
University to Host 29 Veterans for 2014 EBV Summer Season
July will be a busy month for the Entrepreneurship Bootcamp for Veterans with Disabilities (EBV) as three of the participating universities host their programs—Syracuse University from July 19-26 and UCLA and Texas A&M from July 12-20.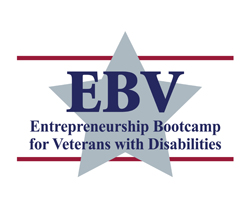 Syracuse University and the Institute for Veterans and Military Families will host a new class of post-9/11 veterans for the eighth-annual Barnes Family Entrepreneurship Bootcamp for Veterans with Disabilities (EBV) program. The program, offered at no cost to participants, leverages the resources and infrastructure of higher education and specifically of the world-class faculty of the Whitman School of Management's entrepreneurship programs, to provide veterans with service-connected disabilities with the cutting-edge training in entrepreneurship and small-business management necessary to pursue their dreams of owning a business. The Syracuse University EBV class of 2014 includes 29 highly accomplished veterans, the largest class hosted by the University since the program's inception in 2007.
Offered in three phases, the EBV provides veterans with skills necessary to successfully launch and grow a new business. Through online coursework, an intense on-campus experience and 12 months of ongoing support and mentorship via the EBV-Technical Assistance Program (EBV-TAP), veterans learn how to examine business feasibility, write business plans, raise capital, attract customers, develop a marketing strategy and leverage collaborations in their communities. Participants spend their time on campus in classes and breakout sessions, hearing from industry professionals about best practices that will help them start a business and/or grow a current venture.
This year's Syracuse University EBV class consists of 23 men and 6 women from 13 states across the country, Puerto Rico and Washington, D.C. It includes 10 from New York and other participants traveling from as far as Hawaii, Texas and North Carolina. They represent five different branches of the military, the majority having served in the U.S. Marine Corps, Navy, Air Force or Army, and one having served in the U.S. Coast Guard. Each veteran in the program has had an exemplary military career, been decorated for their bravery and accomplishments in service and are skilled leaders in their respective areas of expertise.
Members of the 2014 class have continued to thrive post military service, proving themselves in the classroom as well as in the world of entrepreneurship. Many of this year's students have already completed, or are currently pursuing, bachelor's and master's degrees in subjects ranging from business administration to psychology or have begun laying the foundation to launch a successful business venture.
Regardless of their current stage of planning and launching a business venture, each member of the 2014 class has already demonstrated the drive, creativity and self-discipline needed to succeed in the demanding entrepreneurial world. This year's class will use the EBV program to increase their skill set and make their dream of successful business ownership a reality.