STEM
Going Direct: Communication in a Device-to-Device Network
Two Ph.D students, Chenfei Gao and Xiang Sheng, and their advisor Professor Jian Tang, from the Department of Electrical Engineering and Computer Science in the College of Engineering and Computer Science, received a best paper award in the 2014 IEEE International Conference on Communications (ICC) for their paper on device-to-device (D2D) communication as a green wireless networking technique. The ICC is one of the two flagship conferences in the IEEE Communications Society.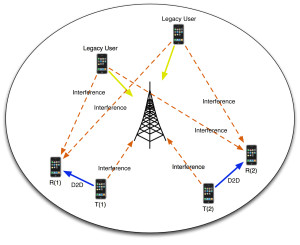 In their paper, "Joint mode selection, channel allocation and power assignment for green device-to-device communications," they discuss how the rapid growth of the number of wireless terminals, compounded by the increase in traffic demand, has led to wireless networks being one of the largest contributors to power consumption.
"This huge energy consumption has raised public concerns about electricity costs and greenhouse gas emissions that are known to have a significant impact on the global climate," writes Tang.
Their research looks at the area of D2D communication whereby wireless devices are able to communicate directly over a D2D link. The base station (BS), where wireless units currently relay information through, would now only be used to set up the link but not relay data. By reducing the data relayed through the BS it reduces the traffic load resulting in a reduction in power consumption. Currently there are over four million BSs and each consumes an average of 25 mega watt-hours per year.
D2D is considered as a key enabling technology for the next generation, (i.e., 5G) wireless communications.
In their paper, they aim to enable green D2D communications in Orthogonal Frequency-Division Multiple Access-based wireless networks by studying a fundamental resource allocation problem. They present a power-efficient algorithm to jointly determine mode selection, channel allocation and power assignment, based on a practical model in which link data rate is an increasing step function of signal-to-interference-plus-noise ratio at the receiver. Note that in most related work, link data rate is modeled using the Shannon's equation. This may not be practical since the Shannon's equation provides an upper bound (rather than actual value) for link data rate. It has been shown by their simulation results that the proposed algorithm can achieve over 57 percent power savings, compared to several baseline methods.