Arts & Culture
Bookstore to Host Book Fair at Syracuse Arts and Crafts Festival
The Syracuse University Bookstore will host a book fair at the Syracuse Arts and Crafts Festival in downtown Syracuse Friday, July 25, through Sunday, July 27. The book fair tents will be located in the 300 block of Montgomery Street, between East Jefferson Street and the entrance to the Downtown YMCA.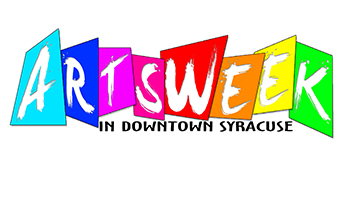 Authors and illustrators of local and regional fiction, nonfiction, poetry and children's books will be on hand to discuss and autograph their books. Books will be available for purchase.
The schedule of appearances by local authors and illustrators is as follows:
Friday, July 25
11 a.m.—Marianne Angelillo, author of "Sharing My Stones" (biography); Mike Borkowski, illustrator of "Otto's ABC's" and several superhero titles from Random House (children's, local interest); and Marvin Druger, author of "Misadventures of Marvin," "Strange Creatures and Other Poems," "Even Stranger Creatures and Other Poems" and "Mr. Moocho and the Lucky Chicken" (children's, poetry) and Tom Porter, author of "And Grandma Said … Iroquois Teachings: As Passed Down Through the Oral Tradition" (history).
Noon—Norm Keim, author of "Our Movie Houses" (local interest).
3 p.m.—Karyn Burns, illustrator of "ABCs of Syracuse University" (poster); Matt Glavin and Michael Dolan, authors of "Adirondack Treasury: The Bonaparte Legacy" and "Adirondack Treasury: Isle Royale" (mystery); William Smullen, author of "Ways and Means of Managing Up" (business); and Aken Wariebi, author of "Living Through Poetry" (poetry).
Saturday, July 26
11 a.m.—Mike Borkowski (children's, local interest); Marvin Druger (children's, poetry); Ed Galvin, Mary O'Brien and Margaret Mason, authors of "Syracuse University" (local interest); and Melanie Zimmer, author of "Central New York and the Finger Lakes," "Curiosities of Central New York" and "Curiosities of the Finger Lakes" (local interest, Finger Lakes).
Noon—Norm Keim (local interest).
2 p.m.—Don Cazentre, author of "New York Breweries" (local interest, New York State breweries); London Ladd, illustrator of "Under the Freedom Tree," "Oprah the Little Speaker" and "March On! The Day My Brother Martin Changed the World," Tom Porter (history) and Karen Winters Schwartz, author of "Reis's Pieces" and "Where Are the Cocoa Puffs?" (fiction).
Sunday, July 27
11 a.m.—Mike Borkowski (children's, local interest); Marvin Druger (children's, poetry); Karen Winters Schwartz (fiction).
Noon—William Smullen (business).
1 p.m.—Karyn Burns (illustrator); Brooks Haxton, author of "Fading Hearts on the River" (fiction).
2 p.m.—Bud Poliquin, author of "Tales from the Syracuse Orange's Locker Room" (local interest, SU basketball)