Health & Society
World Cup Begins, But Will We Watch?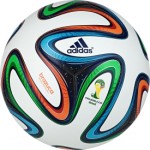 One of the biggest spectacles in sports is underway in Brazil, as soccer teams representing 32 nations compete in the World Cup. But while the rest of the world watches, soccer fandom in the United States is still lukewarm at best.
People love to play (and countless numbers of parents take part in the shuttling of children to soccer practice and games). But in the United States, at least, we don't love to watch. Ratings for televised soccer games continue to lag behind the major sports—football, baseball and basketball.
"It's so big for the world as a whole," says Rodney Paul, professor of sport management at the David B. Falk College of Sport and Human Dynamics. "It's massive."
For Brazil, much is riding on these games. The host country has put in overtime to get stadiums and infrastructure ready for the 64 matches to be played in 12 cities. Pre-cup coverage has focused on possible labor unrest and complaints from Brazilians about the money being spent. For fans, "If it goes off smoothly, they won't notice," Paul says. "There have been strikes and threats of unrest. Hopefully those will end once the games begin."
Can the cup serve as an economic engine for growth for the host nation Brazil? Unlikely, says Paul.
"Most studies show it has a minimal effect, only because of the cost of the buildup," Paul says. "It's huge for people directly involved, but from an entire country standpoint, not as much."
Paul admits he's not as big a fan of soccer as he is of professional and Olympic hockey, football and baseball. "I have friends in Europe who are big fans and I follow through them. I will watch. But in our country, our enthusiasm for the sport is somewhat muted," Paul says.
That is in stark contrast to the fervor of fans internationally who, according to Paul, "eat and breathe" soccer.
So what will it take to get more people in the United States interested in soccer? Paul looked back more than three decades for the answer.
"The perfect case is that we have a run that mimics what happened in 1980 with the U.S. Olympic hockey team. The economic factors are somewhat simliar between now and then," Paul says. "It would be a stretch to think they [Team USA] could win it, but the more success the U.S. has, the more following the World Cup will have domestically. People won't normally seek out coverage. If we're successful though, they will."
All of which brings up the question: has soccer reached its peak interest in the United States? Perhaps.
"I have a student conducting research on areas of interest involving major league soccer," Paul says. "We found interest in the Pacific Northwest and the Northeast that was very high as opposed to other areas of the country. So there may be some regional effect that needs expansion to get the overall interest to the point of our other major sports, like basketball and baseball. But even if it moves up slightly, that's meaningful. For some reason, children and adults love to play it, but just not watch it."
That is of course, unless we have a repeat of 1980, which became known as the Miracle on Ice. Perhaps what we need to drive up interest nationally is a miracle on the soccer pitch.
Professor Paul and the Rhonda S. Falk Professor of Sport Management Michael Veley were both quoted in this story about the World Cup published in Wallethub.com.