Arts & Culture
Professor Examines 'Citizenship, Belonging' in Arab-American Literature
The changing face of Arab-American literature, particularly since 9/11, is the focus of a new book by a professor in the College of Arts and Sciences.
Carol Fadda-Conrey, associate professor of English and an expert in U.S. ethnic literatures, is the author of "Contemporary Arab-American Literature: Transnational Reconfigurations of Citizenship and Belonging" (New York University Press, 2014). In it, she examines cultural and literary texts by Arab-American writers, paying close attention to how the idea of an Arab homeland is negotiated and constructed transnationally by different generations of Arabs living in the United States.
"The last couple of decades have witnessed a flourishing of Arab-American literature across multiple genres," says Fadda-Conrey, whose expertise also extends to ethnic and minority studies and to diaspora and transnational studies. "Yet increased interest in this literature is paralleled by bias against Arabs and Muslims that erroneously depicts their long presence in the United States as a recent and unwelcome phenomenon."
In "Contemporary Arab-American Literature," Fadda-Conrey presents poetry, fiction, nonfiction and visual art by established and emerging Arab-American voices, including Naomi Shihab Nye, Joseph Geha, Rabih Alameddine, Randa Jarrar and Suheir Hammad.
Many of these writers, she says, exhibit strong yet complex attachments to the United States and to their original Arab homelands.
"My book seeks to understand how these writers' depictions of Arab homelands produce complex understandings of Arab-American identities," says Fadda-Conrey, who also has published essays on gender, race, ethnicity, war trauma and transnational citizenship in Arab and Arab-American texts. "By asserting themselves within a U.S. framework and maintaining strong connections to the Arab world, these writers contest Arab-Americans' subjection to blanket representations and ultimately alter dominant understandings of U.S. citizenship and belonging."
Fadda-Conrey hopes her book will help emphasize a transnational approach to the study of minority U.S. literatures, one that fosters a more nuanced understanding of Arab and Muslim identities in the wake of 9/11.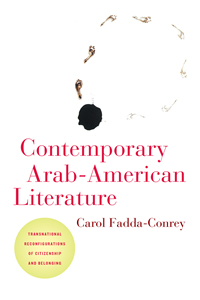 Moreover, the book's multidisciplinary framework highlights its contributions to various fields and areas of study, including Middle Eastern studies, race and ethnic studies, gender studies and diaspora studies.
"Carol Fadda-Conrey offers an original analysis of the ways in which Arab American literature articulates new forms of citizenship, forms that are transnational in scope and reconfigure notions of geography and belonging," says Evelyn Alsultany, associate professor of American culture at the University of Michigan, Ann Arbor, and author of "Arabs and Muslims in the U.S. Media Post 9/11" (NYU Press, 2012). "It will be the go-to book on Arab-American literature."
Also affiliated with the Middle Eastern Studies Program, Department of Women's and Gender Studies, and LGBT Studies Program at Syracuse University, Fadda-Conrey has taught at the University of Sharjah (United Arab Emirates); Purdue University, where she earned a Ph.D. in contemporary American literature; and St. Joseph's University in Philadelphia. Fadda-Conrey grew up in Lebanon, where she earned graduate and undergraduate degrees from the American University of Beirut. She is the recipient of a summer stipend from the National Endowment for the Humanities and a Future of Minority Studies Fellowship.