Campus & Community
Fast Forward Syracuse: Setting a Strategic Course for the Future
Syracuse University Chancellor Kent Syverud, with the support of the University's Board of Trustees, today introduced Fast Forward Syracuse, a transformation initiative that will provide the key strategic direction and framework for propelling the University forward, fostering academic and operational excellence, and meeting the challenges ahead.
Fast Forward Syracuse will be a University-wide initiative that will include broad participation by faculty, staff and students as well as other stakeholders from across the institution. At its core, Fast Forward Syracuse will be a strategic, transformative and collaborative initiative that will allow the University community to build on its widely recognized strengths, improve in such key areas as the undergraduate experience and research, embrace change and prioritize students as the primary focus of everything the University does.
Fast Forward Syracuse will include three interrelated components:
A Strategic Plan, focused on academics, that lays out a shared vision for the University and identifies clear priorities needed to achieve that vision;
A Campus Master Plan to guide decisions about the University's strategic infrastructure needs; and
An Operational Excellence Program that will help the University be more effective, achieve efficiencies and create opportunities to fund investment in the Strategic Plan and the Campus Master Plan.
Fast Forward Syracuse was named to capture the vision and energy of the student competition held as part of Chancellor's Syverud's inauguration in April. The competition challenged students to create ideas and action plans for how Syracuse University can positively impact the world. The student entrants—and the eventual 13 winners—epitomized the collaboration and innovation that has always been a part of Syracuse's history. This mindset underlies the overall Fast Forward Syracuse initiative.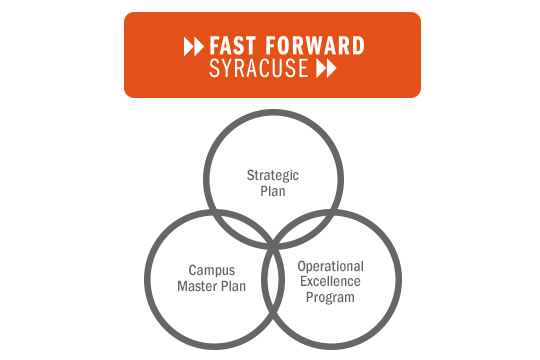 Below is an overview of each of the three Fast Forward Syracuse interrelated components:
Fast Forward Syracuse: Strategic Plan
The University Strategic Plan will set forth an ambitious vision for the University that builds on its strengths and leverages external opportunity. It will define the University's vision and strategic direction, detail the University's priorities and identify specific actions and plans to pursue and investments that must be made. The process will be led by a steering committee and include a number of working groups, all of which will include members from across campus. It will also include participation by members of the Board of Trustees. These groups will provide a number of ways for members of the University community—including students, faculty, staff, alumni and other SU stakeholders—to contribute their ideas. Chancellor Syverud and Vice Chancellor and Provost Eric Spina are finalizing the specific planning process and will make an additional announcement soon.
Fast Forward Syracuse: Campus Master Plan
In his May 30 memo to the University community, Chancellor Syverud announced the appointment of a Campus Master Plan Advisory Group for the development of a University Campus Master Plan. The Campus Master Plan will be developed in conjunction and coordination with the University's strategic plan and will shape, guide and manage the campus environment and its physical form; identify the relationship between principles and policies and the issues and places that constitute the campus; determine issues and goals for selection and development of campus building sites; and establish architectural, landscape, parking, utilities, signage, code, zoning and other criteria for developing sites. As it moves forward, the Campus Master Plan Advisory Group will seek input from students, faculty, staff and other SU stakeholders.
The Advisory Group, which has already begun its work, is composed of the following members:
Chancellor Kent Syverud
Julia Czerniak, Professor, School of Architecture
Steven L. Einhorn, Board of Trustees (Chair)
Winston C. Fisher, Board of Trustees
Melanie Gray, Board of Trustees
Rebecca Reed Kantrowitz, Senior Vice President for Student Affairs
Louis Marcoccia, Executive Vice President and Chief Financial Officer
Cathryn Newton, Dean Emerita and Professor, College of Arts and Sciences
Corinne Smith, Professor, School of Education
Michael Speaks, Dean and Professor, School of Architecture
Andria Costello Staniec, Associate Provost for Academic Programs
Eddie Zaremba '13 Whitman School, Current Graduate Student, Co-President of the Disability Student Union
Fast Forward Syracuse: Operational Excellence Program
The Operational Excellence Program is the next step in the Innovation and Opportunities Assessment process that began last October. At that time, an Innovation and Opportunities Assessment Steering Committee—with representatives from the faculty, deans and administrative departments—led the work. The assessment included a University-wide forum, interviews, focus groups and an employee survey intended to capture a wide range of views on potential areas for improvement.
In April, a report describing the summary findings from that assessment was shared with the University community. The report found that while the University continues to build important strengths, like many other institutions of higher education, it faces significant challenges, including effectively allocating resources, controlling rising costs and modernizing systems and processes. Importantly, the report further found that the majority of Syracuse faculty and staff believe the University must change significantly to remain successful in the future.
The Operational Excellence component of Fast Forward Syracuse will be conducted under the direction of Jeff Kaplan, senior advisor to the Chancellor and President. In his May 12 memo, Chancellor Syverud announced Kaplan's appointment, effective July 1. He will lead the Operational Excellence Program and oversee the program's day-to-day operations, including the creation of a Program Management Office. The Program Management Office will also be supported by staff from Bain & Company, a global management consulting firm, which helped conduct the Innovation and Opportunities Assessment.
The Operational Excellence Program's objectives will be to:
Increase efficiency and effectiveness across the University
Control costs and find better ways to do business
Foster, encourage and help realize good ideas
Generate savings and new revenue for investment in the priorities identified in the Strategic Plan and Campus Master Plan
Members of the campus community will also have a valuable role to play in the program. The work of the program will be carried out by cross-department working teams with support from the Program Management Office and Bain & Company staff. These teams—made up of faculty and staff—will design the solutions and the plans to implement them. Although specifics of the program will unfold more fully as the work gets underway, the University community can first expect changes in operational areas, including facilities planning, human resource processes, purchasing processes, fundraising processes and organization design.
An Operational Excellence Steering Committee, composed of representatives from schools and colleges and University management, will provide input on the program and its work. Members of the Steering Committee are:
Keith Alford, Associate Professor, Falk College of Sport and Human Dynamics
Joe Comprix, Chair, School of Accounting, Whitman School of Management
Kelly Chandler-Olcott, Professor and Chair, Reading and Language Arts, School of Education
Gwenn Judge, Director, Office of Budget and Planning
Rebecca Reed Kantrowitz, Senior Vice President for Student Affairs
Elizabeth Liddy, Dean and Trustee Professor, School of Information Studies
Jeff Kaplan (Chair), Senior Advisor to the Chancellor and President
Karen Morrissey, Executive Director, Human Resources Operations (Ex Officio)
Chris Sedore, Senior Vice President, Enrollment Management
Brian Sheehan, Associate Professor of Advertising, Newhouse School of Public Communications
Peter Vanable, Professor and Chair, Department of Psychology, College of Arts and Sciences
Michael Wasylenko, Professor and Senior Associate Dean for Academics and Administration, Maxwell School
Student representatives to be appointed
There will also be an Operational Excellence Executive Committee that will provide high-level oversight and whose members will also serve on the Steering Committee. Members of the Executive Committee are:
Lou Marcoccia, Executive Vice President and Chief Financial Officer
Chuck Merrihew, Vice President, Advancement and External Affairs (Ex Officio)
Kevin Quinn, Senior Vice President for Public Affairs
LaVonda Reed, Professor of Law, College of Law
Eric F. Spina, Vice Chancellor and Provost
Hoang-Anh Tran, Assistant Chancellor and Chief of Staff to the Chancellor
As the three interrelated components of Fast Forward Syracuse begin in earnest, regular communications to the campus community will be provided on the Fast Forward Syracuse website. To submit an idea, or to volunteer for a work team, visit fastforward.syr.edu.