Campus & Community
ESF to Confer Degrees at Commencement on May 11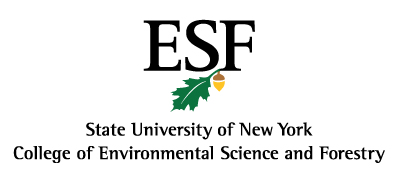 The SUNY College of Environmental Science and Forestry (ESF) will confer up to 575 degrees during joint Commencement exercises with Syracuse University May 11 in the Carrier Dome. The ceremony will begin at 9:30 a.m.
During the ceremony, ESF will confer approximately 425 bachelor's degrees, with about 150 students receiving master's and doctoral degrees.
The college also awards associate in applied science degrees at its Ranger School in Wanakena. Twenty-two students in the forest technology program, 22 students in the environmental and natural resources conservation program and 13 students in the land surveying technology program will receive degrees during a ceremony 11 a.m. May 17 at Clifton-Fine High School in Star Lake.
Class Marshals leading the ESF degree candidates in the Commencement procession are James P. Tucci of Averill Park and Maureen S. Bishop of Deerfield. Departmental scholars are Dolly L. Hall of Croton Falls (chemistry), Morgan P. Connolly of Manorville (environmental and forest biology), Matthew V. Cowen of Union Springs (environmental science), Emily S. Thiel of Holley (environmental studies), Daniel C. Dohman of Jay (environmental resources engineering), Nicolas A. Dwyer of Moravia (forest and natural resources management), Xin Jin Huang of Syracuse (landscape architecture), Derek P. Walter of Montoursville, Pa., (paper and bioprocess engineering) and Saul Zepeda of Syosset (sustainable construction management and engineering).
Commencement weekend festivities in Syracuse begin at 8 a.m. Saturday, May 10, with the Honors Students Convocation. Honors Convocation will be followed by curriculum-specific receptions for degree candidates, their guests and members of the ESF college community at 10 a.m.
The college's traditional convocation will be at 12:30 p.m. Saturday, May 10, at the SRC Arena and Events Center, Allyn Hall Gym at Onondaga Community College. Bachelor's, master's and doctoral degree candidates will be honored.
Biologist Henry Lickers, longtime director of the Mohawk Council of Akwesasne Department of the Environment, will receive an honorary doctor of science degree.
Lickers is an internationally recognized Haudenosaunee leader on matters of indigenous knowledge, science and conservation. For some 30 years, Lickers has been director of the Mohawk Council of Akwesasne Department of the Environment. He has served as co-chair of the Committee on the Status of Endangered Wildlife in Canada Aboriginal Subcommittee, scientific co-chair with the Haudenosaunee Environmental Taskforce, vice president and board director of the St. Lawrence River Institute of Environmental Sciences and the Eastern Ontario Model Forest. He has also served as member of Environment Canada's Science and Technology Advisory Council, the International Joint Commission Science Advisory Board and the Panel on Ecological Integrity of Canada's National Parks.
Lickers is the author of the Haudenosaunee Environmental Action Plan and several influential writings on indigenous perspectives on resource management and environmental protection. He has worked with Parks Canada for incorporation of traditional ecological knowledge and has been affiliated as an instructor with Trent University, Indigenous Environmental Studies Department. He is a sought-after lecturer and has given keynote addresses at Ecological Society of America, Dalhousie University, Michigan State University, Virginia Tech, McMaster University and others.
Lickers is a member of the ESF Center for Native Peoples and the Environment Advisory Board and a teacher at Native Earth Environmental Youth Camp. He is a co-principal investigator on the NSF-IGERT grant submission "Helping Forests Walk" and was the speaker at the Feinstone Award dinner in 2011.
During the convocation, departmental honors will be bestowed upon the top students in each of the college's discipline areas. Bishop will be the student speaker. Joseph Piazza of Staten Island will present the class gift.
On Sunday, May 11, a continental breakfast for master's and Ph.D. candidates will be served at 7:30 a.m. in the Gateway Center. A recognition ceremony for advanced degree candidates begins at 7:45 a.m. The undergraduate continental breakfast will begin at 8 a.m. in Marshall Hall's Alumni Lounge.