Campus & Community
Walk on April 13 to Show Support for Fight against Obesity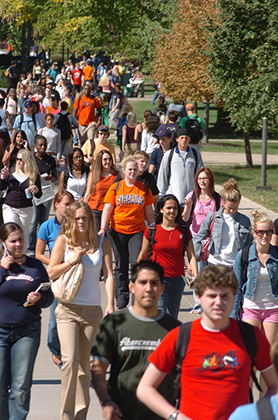 On Sunday, April 13, at noon on the Syracuse University Quad, the Delta Zeta Chapter of Alpha Phi Alpha Fraternity, Inc., is hosting a walk against obesity, titled "A Walk To Remember." All proceeds go toward the Determination Center of Syracuse for new sports equipment in efforts to encourage children to exercise, and live a healthy and active lifestyle. Student organizations and community groups are encouraged to walk with banners that demonstrate their support for the fight against obesity.
Donations of up to $20 are encouraged for groups and organizations, as well as individual walker donations, but are not required for participation. No registration is needed.
"The idea for the walk came from one of our brothers, Marcarthur Abelard, who was inspired by Michelle Obama's "Let's Move" campaign and Beyonce's workout video," says Mike George '15. "He also wanted to bridge the communities of the university with city residents. What better way than a walk for a cause."
If you have questions, contact George at mgeorgej@syr.edu.