Campus & Community
Verbal Blend to Host Campus-Wide Student Poetry Slam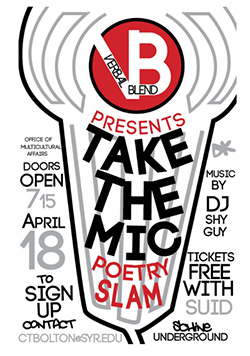 Verbal Blend, a spoken-word poetry program out of the Office of Multicultural Affairs, will host its campus-wide Take the Mic Poetry Slam on Friday, April 18, at 7:30 p.m. in Schine Student Center Underground.  Doors will open at 7:15 p.m. Admission is free with a ticket from the Schine Box Office.
Hosted by Veronica Roman, and with music by DJ ShyGuy, the poetry slam is a competition that includes students from SU, SUNY ESF and Onondaga Community College. They will read or recite original material up to three minutes. The competition takes place in two rounds that will be based on originality, stage presence, content, delivery and time. Trophies will be awarded for first, second and third place.
"This poetry slam event is like the Final Four to the spoken word poet at Syracuse University," says Cedric Bolton, coordinator of student engagement in the Office of Multicultural Affairs. "Students work their way through the brackets to win first place and bragging rights until the next slam."
For questions, contact Bolton at 315-443-9676, or ctbolton@syr.edu.