Arts & Culture
Tony Award-Winning Rock Musical 'Spring Awakening' Closes SU Drama Season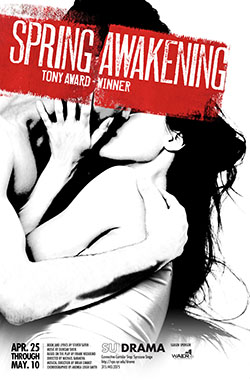 Winner of eight Tony Awards, "Spring Awakening" is a hard-hitting rock musical adaptation of Frank Wedekind's expressionist play. Set in late-19th-century Germany, the story follows Wendla Bergmann, Moritz Stiefel, Melchior Gabor and their peers as they struggle to understand the meaning of sexuality and violence in an oppressive, repressed society where adults refuse to answer any hard questions.
"Spring Awakening" will run April 25-May 10 in the Storch Theater at the Syracuse Stage/Drama Complex. Tickets can be purchased online at http://vpa.syr.edu/drama, by phone at 315-443-3275, and in person at the SU Drama Box Office, 820 E. Genesee St. "Spring Awakening" is recommended for audiences 16 years of age and older due to adult language and themes including sexual content.
"Beautiful, messy, exhilarating … [Duncan Sheik] manages to deliver lovely, graceful pop melodies that work in a theatrical context — that is, to propel a story and elucidate its characters," says USA Today. With "Spring Awakening," Steven Sater (book & lyrics) and Duncan Sheik (music) have adapted Wedekind's ideas of teenage rebellion and sexual discovery to the stage, using an alternative rock score as the background.
"Spring Awakening" opened on Broadway at the Eugene O'Neill Theatre in 2006 and received favorable reviews. It received 11 Tony Award nominations in 2007, winning eight including Tonys for Best Musical, Book and Score. The show also won four Drama Desk Awards, including Outstanding Musical.
Wedekind's first play, "Spring Awakening" was originally written and performed in German. He published it at his own expense in 1891, but it was not performed until he started his own repertory company in 1906. Wedekind's work was rarely produced during the Nazi era because he did not advocate the views of the political party. After his death and the end of World War II, "Spring Awakening" was frequently produced in Germany. The play finally returned to America in 1958, where a new translation was performed by the University of Chicago.
ABOUT THE DIRECTOR
Michael Barakiva is a director and writer based in New York City. At Syracuse Stage, he has directed "Blithe Spirit," "Turn of the Screw" and "The Clean House." Other credits include the Oregon Shakespeare Festival, Ensemble Studio Theater and Shakespeare Santa Cruz. He serves as the artistic director of The Upstart Creatures (http://www.upstartcreatures.com). He is a two-time recipient of the David Merrick Prize in Drama, a Phil Killian Fellowship and a Drama League Summer Fellowship at the Hangar Theater.