Syracuse Architecture to Host 2014 Mayors' Institute on City Design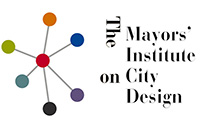 The Mayors' Institute on City Design (MICD) has announced that the School of Architecture has been chosen to host a regional session of the institute in 2014.
MICD is a National Endowment of the Arts (NEA) leadership initiative designed to foster an understanding of and appreciation for the role of design in creating vibrant, livable cities, and the importance of mayors as advocates for good design. As part of this event, Syracuse Architecture will host a two-day design discussion and conversation with eight mayors from around the country.
The session will take place in Syracuse in late fall of 2014.
As part of the workshop, each mayor presents a case study of a critical issue from their city, and members of the Resource Team—nationally known architects, planners, designers and real estate development experts—identify issues, offer suggestions and discuss paths toward a solution. The interchange among mayors and designers sparks lively debate, opens new perspectives and generates creative ideas.
Design topics that have been addressed in recent years include downtown redevelopment, transportation planning, school/campus design, affordable housing and sustainable development. The Syracuse event will be led by two members of the Syracuse Architecture faculty, Dean Michael Speaks and Professor Julia Czerniak, who will coordinate the selection of the resource team and visit each mayor and city to prepare for the session.
While at the University of Kentucky, Dean Speaks was the project manager for the 2012 MICD East Session hosted in Lexington. In addition, he worked in close consultation with the cities of Lexington and Louisville, serving as a key resource for both mayors in their efforts to bring design and planning to the forefront of their cities.
Czerniak was a resource team participant in the 2013 MICD West Session hosted by UCLA's City Lab. Formerly the inaugural director of UPSTATE, she is a registered landscape architect and founder of CLEAR, an interdisciplinary design practice that focuses on urban landscapes in Rust-Belt cities. Her work as designer is complemented by a body of writing, including "Formerly Urban: Projecting Rust Belt Futures" (2013), which examines potential futures for shrinking cities.
"We are very pleased to have been selected to host this event which will be valuable not only for the participants, but also for the University and city community as well," says Speaks. "MICD is dedicated to improving the quality of life in America's urban centers by helping mayors understand their role as the chief designer of their cities. These presentations provide important information for mayors on the latest thinking in architecture, urban design, landscape architecture, sustainable development, consensus building and economic development."