Shark Tank Comes to Syracuse
It takes an entrepreneurial ecosystem to help turn an idea into a venture. And plenty of students are taking on the challenge of executing on their ideas.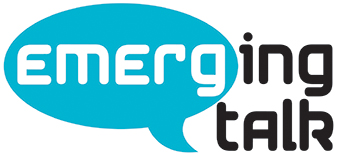 Students need to connect with entrepreneurs, and students and the Central New York community need to know there's an ecosystem here in Central New York.  So how do students and community members tap into the ever-growing entrepreneurial ecosystem in the area? They come to Emerging Talk on April 11 and 12.
Emerging Talk is where innovative and entrepreneurial students, local business owners and investors meet. Emerging Talk will focus on university and community leaders who have shaped and continue to shape the Central New York startup landscape. April 11 is packed with talks by inspiring entrepreneurs, making the networking ripe for conversation.
"Emerging Talk has become the annual event that student entrepreneurs talk about and look forward to," says Mike Smith, Kauffman Entrepreneurship Engagement Fellow alumnus and co-founder of Centscere. "Connections are made at Emerging Talk that lead to new ideas and partnerships."
Each year, Emerging Talk has drawn more than 250 attendees. This year's event will be even bigger. Revolutions and WonderWorks at Destiny USA have donated their event spaces, and Kevin Harrington, one of the original sharks on the TV series "Shark Tank," will keynote.
"Destiny USA is thrilled to participate and host Emerging Talk this year," Rob Schoeneck, general manager of Destiny USA, says. "It's a great local event and we're excited to have the opportunity for our venues to participate."
Friday, April 11, will kick off with eight-minute talks by local, national and student entrepreneurs. These pre-event talks are sponsored by 9A and the Gear Factory, local entrepreneurial organizations. Emerging Talk officially starts at 7:30 p.m. with Kevin Harrington's keynote. Check out the schedule on the Emerging Talk website.
"As a Syracuse native and representative of Revolutions, I'm excited to be part of an event that showcases how corporations, students and local businesses can benefit from one another," says Becca Socia, sales manager for Revolutions.
"WonderWorks is thrilled to participate in the Emerging Talk event this year," Ashlee Trautner, sales manager of WonderWorks, says. "It's a great community event and opportunity to get involved to find out more about the growth, opportunity and innovation in the CNY area. Like WonderWorks, Emerging Talk will spark your imagination and challenge you."
On Saturday, April 12, students compete in the Raymond von Dran (RvD) IDEA Awards, Panasci Business Plan Competition, L.C. Smith Invention and Creativity Competition and the New York State Business Plan Competition Regionals, and they have the opportunity to show off their venture at Demo Alley. Any student or community entrepreneur with a venture or idea, nonprofit or for profit, should request a table and demo at Demo Alley. Entrepreneurs can network, find potential clients/customers and attract talent. There will also be a $500 award at Demo Alley for crowd favorite best display. Day two of Emerging Talk happens at the Whitman School of Management.
Emerging Talk is free and open to the public. Anyone with an idea for a nonprofit or for-profit business, a current business, an interest in the entrepreneurial ecosystem in Central NY, or who is a resource to businesses should come. Click here to register.
For more information or to register to attend Emerging Talk, visit http://emergingtalk.syr.edu/. For more information about the Raymond von Dran (RvD) IDEA, visit  http://idea.syr.edu/.