Campus & Community
Shaped Clay Society Sale to Be Held May 8-10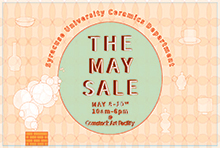 The Shaped Clay Society in the College of Visual and Performing Arts (VPA) will host its annual May sale May 8-10 from 10 a.m.–6 p.m. on the second floor of the Comstock Art Facility, 1075 Comstock Ave.
The sale will feature student work ranging from functional to sculptural and everything in between. Cash, check and credit card payments will be accepted.
The Shaped Clay Society is a student-run group based in the ceramics program of VPA's Department of Art. Active on campus and in the community, the group uses various fundraising activities to increase educational opportunities, such as bringing visiting artists to campus and to support local organizations.
For more information, contact 315-443-3830 or shapedclaysociety@gmail.com.